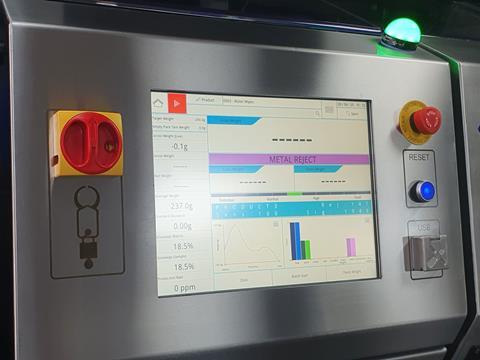 Fortress Technology, in collaboration with Sparc Systems, has unveiled its first-ever modular, high-performance combination metal detector and checkweighing conveyor system.
Specifically designed for high care confectionery, chocolate, bakery, nutritional bars, packaged meats, cheeses, and ready meals, including contract manufacturers supplying multiple retailers, Fortress says that its new product applies industry-leading technology engineered for high-end Sparc systems. Fortress says that its new product can accurately inspect and check the weight of larger size products and pack formats - up to 8kg and measuring 300mm by 400mm.
Common fixings and connection features, such as jigsaw style panels at the metal detector infeed and checkweigher outfeed, give manufacturers the option to rotate the equipment around to suit a specific production layout while maintaining the metal detection and checkweighing sequence.
Additionally, Raptor's universal design gives manufacturers the option to purchase a standalone Raptor checkweigher, and attach a complimentary metal detector at a later date to meet different phases of their production and inspection investment strategy.
Managing director Phil Brown comments: "Both elements of this Raptor system use compatible collective parts, even when there's a bespoke element. This means that we can confidently give the assurance of fast delivery - typically six weeks - at the best price-performance ratio."
Given that most food manufacturers supply multiple retailers, the Raptor introduces a paperless, fully auditable COP test routine. It pre-configures every test by retailer and product being inspected and alerts QA managers each time a test is overdue. If not performed by the deadline, the machine halts, and an alert is generated and sent directly to the factory's QA or technical manager.
"By using automation to follow the test principles, it's impossible to bypass a step in the test process, increasing the transparency and traceability of machine performance audits," emphasises Brown.
Inspecting up to 150 packs per minute, the Raptor checkweigher is also able to calculate Average Finished Weight Variance. It is approved to both OIML and MID (EC TAC) specifications.
To detect the smallest metal particles, a Stealth metal detector that features digital signal processing, built-in data capture, remote access, and single-pass product learning is integrated into the inline system.
The unique motor release is another Fortress first. A design concept developed by Sparc, operatives can unclip and disconnect the conveyor motor in a matter of seconds, removing the conveyor and releasing the belt for maintenance and cleaning. Thread-less feet, as well as minimal flat surfaces, also help manufacturers to maintain hygiene standards in wet and dry production environments.
Also unveiled on the Raptor Combi is a new interactive HMI. For ease of use, a swipe touchscreen enables users to bring to the foreground the most relevant parameters to their operation. Ranging from net weight to average weight to product giveaway, operatives can pick, swipe, and drop their preference onto the home screen.
Commenting on this latest advancement, Brown says: "For Fortress, the Raptor Combi is a breakthrough development, combining months of R&D drawing upon Sparc's exceptional engineering prowess and our market presence. The result is a premium combination weight and metal detector, at the best price point. Featuring brand new, unseen food inspection technology. All delivered in a flexible, hygienic package."