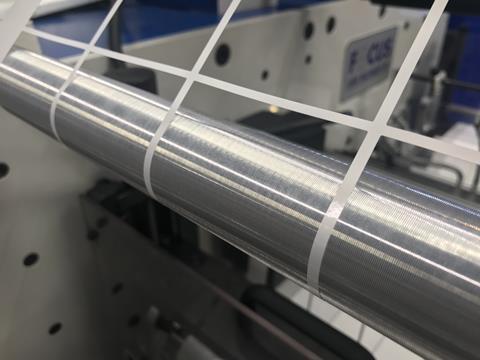 English manufacturer of narrow web presses, Focus Label Machinery, will be running a new product from Rotometrics on all of their presses at the upcoming Labelexpo Europe in Brussels next month.
Known as 'EZ Clean', the stripping rollers have a specially treated surface to ensure that any break in the waste matrix being rewound is self-repaired and does not require the press to be shut down causing a loss of productivity.
Speaking for Rotometrics UK, Sales Director Neil Lilly commented: "This is relatively simple solution to a problem that has plagued narrow web label converters for years. The special surface coating we apply to the stripping roller prevents any matrix waste from being wrapped around and causing a build-up that stops the press."
A straightforward replacement for any existing stripping roller, the EZ Clean can be located in a variety of positions to suit individual jobs and substrates. In addition to preventing stoppages, EZ Clean also allows the press to be run faster and be more productive.
David Lee, Sales Director at Focus said: "We are delighted to be using the new EZ Clean Stripping Rollers at Labelexpo because they bring a tangible boost in productivity to our presses - and we are sure our customers will appreciate the difference. It's simple, but effective, like all good technology!"
Visitors to the Brussels expo can see EZ Clean in action on the Focus Label Machinery Stand 7D25, while a comprehensive range of Rotometrics technology can be seen on Stand 4B25. Rotometrics will also be exhibiting the new EZ Clean Pathing Rolls, which improve web tracking and have easy clean features to keep presses running longer.