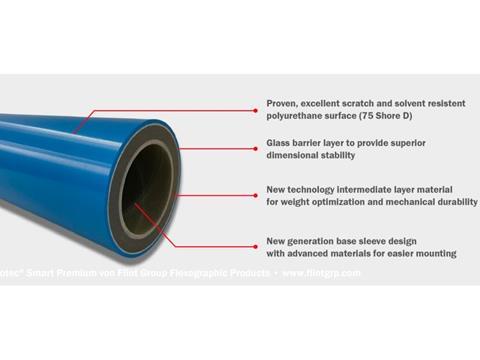 The base sleeve of the newly developed rotec® Smart and rotec® Smart Premium has been optimised with easy-mount technology to increase both the ease and speed of mounting, and therefore to improve productivity and make job changes faster.
The intermediate layer of the sleeve uses the latest advanced polyurethane materials to enable an up to 15% weight reduction and allow for easier sleeve handling. The rotec® Smart Premium sleeve has an additional barrier layer which delivers superior dimensional stability. The outer layer of the sleeve uses the same well-known and high-quality polyurethane that has proven its worth in other rotec® products, which boast excellent scratch and solvent resistance to create a long-lasting, value-added product.
Flint Group continues to focus on innovative product solutions for its flexographic customers. Trends in flexographic printing are still moving towards shorter print runs and more job changes, all the while aiming to achieve better print quality with lower costs and improved health and safety. The new rotec® Smart and rotec® Smart Premium sleeves were developed with these challenges in mind, using new-generation polyurethane materials with a brand-new, weight-optimized construction and ground-breaking, easy-mount technology.
The rotec® Smart and rotec® Smart Premium sleeves are the next step in what is already a strong product line from Flint Group that works smarter to help customers achieve their goals. See for yourself at Labelexpo Europe, where Flint Group Flexographic Products will demonstrate the new-generation sleeve for the first time ever next to the patent-pending, state-of-the-art rotec® Eco Bridge, launched earlier this year, for use on flexographic printing presses and on plate-mounting equipment.
Flint Group will be exhibiting a wide range of innovative solutions for labels and packaging at Labelexpo Europe, which is scheduled to take place between 25 and 28 September in Brussels. Combining industry strengths, four of the group's divisions (Flexographic Products, Packaging and Narrow Web, Digital Printing Solutions (Xeikon and ThermoFlexX®)) will showcase solutions that will mean label printers and converters will be better positioned to address emerging market realities. Flint Group will be located in Hall 5 at stands C25 to C28.
More info: