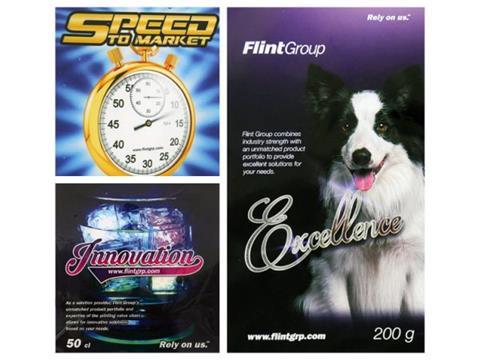 At the Labelexpo show in Brussels, Flint Group, the solution provider of the printing industry, built on its show theme of "The one stop you should make" and presented itself for the first time with one joint presence of its unique product portfolio across the divisions.
From imagers, printing plates and equipment, sleeves to inks and digital printing solutions, Flint Group covers all steps of the value chain for printing in the label and packaging industry.
Friedrich von Rechteren, Vice President Sales EMEA & Global Marketing of Flint Group Flexographic Products says: "Teaming up with our colleagues and building on our broad technology expertise provided a great opportunity to showcase the full potential of Flint Group and how we can serve our customer needs best. With our latest innovations within Flint Group Flexographic Products we were reaching a next level of products and services which are better, faster and easier to use."
Flint Group Flexographic Products, showcased its latest innovations and featured the nyloflex® Xpress Thermal Processing System and its superior plates portfolio at the show in Brussels. With a smarter design that is easier to use, the nyloflex® Xpress System reduces operating costs thanks to increased productivity, less maintenance and less downtime. The specially developed nyloflex® Thermal Printing Plates, in combination with the unique heating system, ensure highest plate and print quality. In addition to the successfully launched nyloflex® XPH and nyloflex® XPM, thermal flexographic plates for high-quality printing on paper substrates with UV and water-based inks - the nyloflex® XVH and nyloflex® XFH - are announced, completing the Thermal plate portfolio. Both flat top plates are suitable for a variety of substrates and will be commercially available during the first half of 2018.
To expand Flint Group's offering for the label market, the nyloprint® WF SHARP was also announced. The water washable, film based plate for the high-end label market improves quality with highest line count for reproduction of finest details. And due to the suitability of the plate for all types of processing equipment and the high flexibility of the polyester base, and therefore excellent adaption to different cylinders, it is easier to use. "We leveraged our vast knowledge in the letterpress segment to develop the nyloprint® WF SHARP plate. This plate is specifically designed for letterpress applications in the label market, completing our offering to label producers", von Rechteren says. The plate is scheduled to be released on the market in Q1/2018.
Furthermore, Flint Group presented the patent-pending, state-of-the-art rotec® Eco Bridge for easier and faster use in flexographic printing presses and on plate-mounting equipment. The innovative and more efficient air supply system provides 99% reduction in noise and needs less compressed air. Next to the rotec® Eco Bridge, which is nominated as a FlexoTech International Print & Innovation Awards Finalist, the latest innovation, the rotec® Smart Premium sleeve with easy-mount technology and weight reduction up to 15% has been presented.
Combining industry strengths, the divisions (Flexographic Products, Narrow Web, Digital Solutions (Xeikon and ThermoFlexX) are showcasing solutions that enable label printers and converters to be better positioned to address emerging market realities. Also illustrated with three samples – flexible packaging, PS high quality label and shrink sleeve – which represent Flint Group's unmatched product portfolio and expertise in the printing value chain that allows for innovative and excellent solutions based on our customers' and their customers' needs and ensures maximised productivity.
More info: