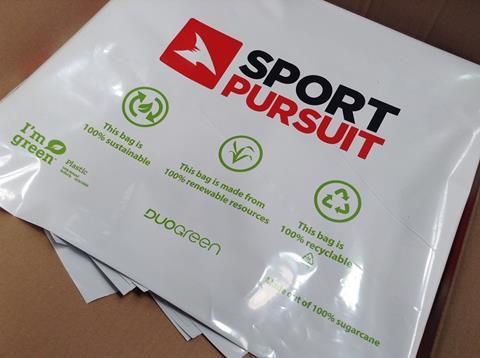 Online flash sale retailer SportPursuit has become the first e-commerce site to package its products in plastic mailing bags made entirely from sugarcane.
In a move to improve its carbon footprint, the business, which was set up in 2012, has swapped all of its mailing bags made from polythene derived from finite fossil fuels for ones made from a biopolymer produced using sugarcane.
The biopolymer is produced by Braskem under the trade name I'm Green™, also frequently referred to as GreenPE.
GreenPE mailing bags – manufactured exclusively in the UK by packaging provider Duo UK – are chemically identical to regular plastic. As well as being renewable, sugarcane captures and stores CO2 from the atmosphere as it grows, making it carbon-negative. Avoiding the use of fossil fuel plastic material in favour of GreenPE bags further increases the amount of CO2 emissions saved and preserves fossil resources.
SportPursuit is the first members-only fast goods site and offers cut-price branded equipment, clothing and accessories for a range of sports, including snow sports, cycling and running.
Mark Irwin, logistics coordinator at SportPursuit, said: "As a retailer that's passionate about the outdoors, we're very keen to preserve the world around us. Naturally, we wanted to make our packaging as eco-friendly as possible, without compromising its functionality, risking damage to the products, or increasing the amount of space our packaging takes up, which would have its own environmental consequences.
"As a keen proponent of sustainability, I was really intrigued when I learned about plastic being made from sugarcane, especially as it provided the perfect 'green' solution to our packaging problem. Switching to sugarcane mailing bags is a fantastic way of using a sustainable resource to create a flexible pack that's fit for purpose, without affecting our supply chain in the slightest."
SportPursuit first started working with Duo UK in 2014. The new bags are printed with information about GreenPE, enabling SportPursuit's customers to understand where their packaging has come from. The bags can also be recycled in Duo UK's closed-loop recycling system.
Anthony Brimelow, commercial director at Duo UK, said: "We're thrilled that SportPursuit has adopted GreenPE mailing bags. By doing so, they're helping to protect the planet in a pretty clever way. What's more, it's a drop-in solution, requiring no change to the manufacturing process, and the bags can also be recycled in our closed-loop recycling system.
"As more and more retailers switch to bags made from sugarcane, we can reduce our reliance on fossil fuels which, as we know, are running out. Instead, we'll be making use of a renewable crop that grows all year round and actually absorbs CO2 from the atmosphere, allowing us to work towards a more sustainable future."
More info: