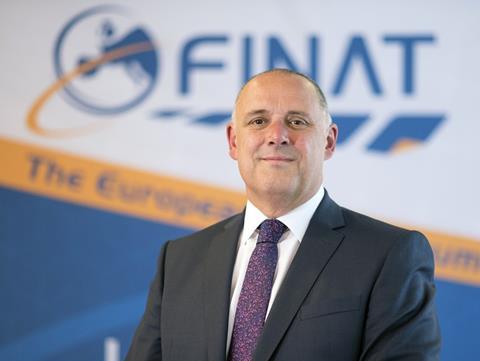 At a time when packaging technology as a whole is changing very fast, Chris Ellison, Managing Director of OPM (Labels & Packaging) Group Ltd (UK) has been elected to the challenging position of President of FINAT, the European labelling association based in The Netherlands.
"It's a massive honour, to be elected President", he says. Replacing outgoing President Thomas Hagmaier, Managing Director, Hagmaier Etiketten (DE), Ellison has over thirty years' experience at the 'sharp end' of the industry, and a strong personal history of business development and innovation to contribute to his new role. He will be supported by newly-elected Vice President Francesc Egea of IPE Innovaciones (ES).
At the FINAT General Assembly, Aydin Okay (Canpas, TR) was re-elected to the Board. Newly elected to the Board were Ilkka Yilipoti (Auraprint, FI); Günther Dieroff (Benelli, SE); Alex Knott (Dow, UK), appointed Technical Committee Representative; and Chris Jones (Alphasonics, UK), appointed Young Managers Club Representative. Their entry coincided with the farewell to the Board of Past President Kurt Walker, Isidore Leiser (Stratus Packaging, B), Marc Büttgenbach (Bizerba, D), Sean Duffy (Bluestar Silicones, F, TC reprsentative) and Dana Kilarska (Purgina Labels, SK, YMC representative).
'A top agenda item'
FINAT's activity base has magnified in line with the industry the association serves, and – in an increasingly global marketplace – is today committed to offering state-of-the-art support to its members, who represent the whole supply chain. As Chris Ellison underlines: "Packaging and labelling production is one of the most sustainable industries of all, because it continually replenishes itself – always reflecting changing market needs and fashion trends in a youthful way. That's why I'm particularly passionate about FINAT's current focus on recruiting young people into the business. As the founders of the original small, often family-owned, label companies are now beginning to take retirement, we're facing a real skills shortage that we need to address right now. I know this is a great industry to work in – lively, challenging, and rewarding! – and I'm keen to promote it as the attractive career proposition it is, but I'm also well aware that today we're competing with many other seductive 'techno' options, so it's a top agenda item for me to have FINAT promote the labels and printed packaging production sector as a clean, lean career choice today."
New FINAT leading-edge technology website
"The advent of new technologies across the whole sector brings its own challenges, impacting the entire make-up of a participant company's systems. I will be strongly supporting development of the excellent technology website FINAT has recently created, which continually brings members up-to-the-minute expert information on key areas. It's important to do this, because the pace of technology change in print is getting faster and faster, and equipment model cycles shorter. Not only that, leading-edge equipment today demands huge investment – yet margins are tighter, customers want extended payment leadtimes, and we need to think about changing direction with what we produce from just a simple 'label' to including new offerings like shrink sleeves, in-mould labels, and flexible packaging. That's what brand owners want, and Industry 4.0 for sure means that we all have to become more competitive in our relations with our customers – to be able to keep, and grow, our business."
Helping us change
"And to meet those challenging requirements, we've really got to become more competitive and customise our internal business systems to achieve optimal efficiencies. Success means a continuous programme of innovation and new thinking, and the support of an international association like FINAT can make all the difference. You can't grow your business if you don't grow your people, and I get a huge amount of satisfaction out of watching staff grow in confidence and professionalism."
"I believe FINAT can really help us change – how we should be thinking, in terms of adding value, technology, recruiting young people. Supporting the label industry national associations, FINAT underlines the international nature of our industry now, which today features a very complex remit – so we have to be as mobile as we possibly can… Fast forward: that's the main agenda I'll be addressing during my presidency."
At his own local level, Chris Ellison is committed to establishing a stronger link for FINAT with the UK's BPIF Labels – "in view of the possible implications of Brexit", he says. His role as FINAT President will also involve participation in the major international events and features of the label industry calendar – including Labelexpo in Brussels in September and the annual FINAT European Label Forum – and, at an even broader international level, leadership of the L9 – the association of nine national label associations around the world.
More info: