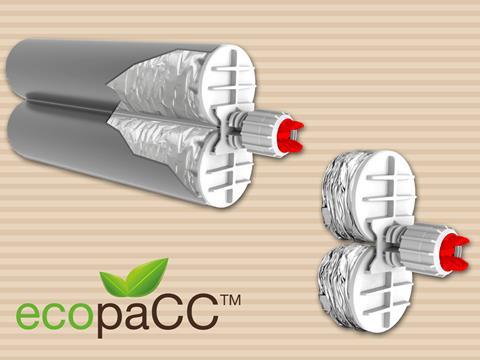 PE: What are the environmental challenges in packaging that your entry addresses, and how well is the market responding to them so far?
MD: The launch of the product on the market is obviously addressing a real market need and has created high interest with customers and new prospects who are currently testing ecopaCC intensely for their adhesive material and applications. Customers using ecopaCC cartridges can reduce plastic packaging waste by up to 82 per cent (e.g. 82 per cent for a 1500mL cartridge or 75 per cent for a 600mL cartridge) compared to conventional, rigid packaging. This is especially critical in industries such as construction and automotive where hundreds of litres of adhesives are used on a weekly basis. Disposal costs can be reduced as disposal charges are calculated on either volume or weight basis. In addition, the outlet nozzles of Sulzer's solution can be reclosed. If the system is not empty after use, the outlets can be closed to avoid cross-contamination and subsequently hardening of the adhesive. This further minimises cartridge waste and increases ecopaCC's green credentials.
In addition to end users, adhesive manufacturers can also obtain similar benefits by using collapsible ecopaCC cartridges. The packaging features a small distribution and warehouse footprint due to its associated lower freight, transportation and storage costs. Thanks to a reduced transportation volume and less weight, the corresponding CO2 emission is reduced. Most savings can be achieved when ecopaCC is filled from the front. This allows the customer to ship, distribute and store the empty cartridge in a collapsed state. As a result, the system is lighter and will occupy less volume compared to conventional cartridge system. If back-filling is requested ecopaCC is provided empty and unclosed at the backside. However, adhesive producers can still benefit from a packaging design that offers the same lightweight advantage with a reduction in overall packaging material volume compared to existing rigid solutions.
PE: 'Sustainable packaging' is a contentious concept which means different things to different people and anyone working in packaging understands that it's easy to make things worse according to one environmental metric while making improvements according to another. In your opinion should there be a hierarchy among our sustainability goals?
MD: There should clearly not be a hierarchy among sustainability goals. That would be contrary to the idea of sustainable development. We understand sustainability as a responsible behaviour towards our customers, partners, shareholders, employees and the environment. We aim to balance our economic, social, and environmental impact.
PE: Clearly, sustainability in packaging needs to be achieved by many stakeholders acting together, not by someone with a silver bullet. Thinking about the wider picture, what areas of innovation or action would you like to see across the value chain in the coming years to meet the demands of nature and society?
MD: Sustainability encourages our business to make decisions over a period of years and decades rather than based on the next quarter's financial report. Decisions based mid- and long-term do justify even higher initial investments into new technical solutions as well as production processes. Sulzer is a company committed to the sustainable use of resources, and we expect our global partners and suppliers to act accordingly.