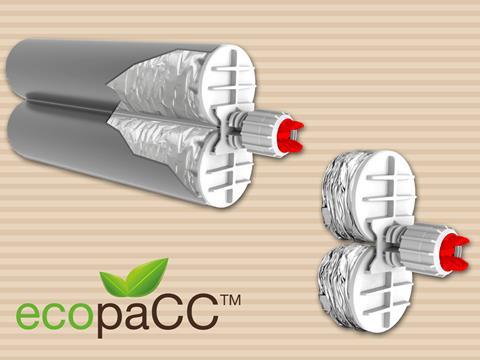 The countdown is on for the live Sustainability Awards 2019 ceremony, where we will unveil the worthy winners of the most prestigious sustainability competition for packaging innovation.
In anticipation, we explore the 25 standout solutions that made it to the finals, handpicked by our independent, expert judging panel.
This time it's the turn of Sulzer's Mariella Devrient, who tells us about the company's innovative next-generation primary packaging for adhesive applications: the collapsible ecopaCC™ cartridge.
The winners in each category and overall 2019 Sustainability Awards winner will be announced at FachPack, Nuremberg, Germany on 25th September. Join us from 16:30 at FachPack's PackBox Forum for sustainability discussion, networking, drinks and the big reveal.
PE: Could you please introduce your successful initiative?
MD: Sulzer engineers have developed a next-generation primary packaging for adhesive applications: the collapsible ecopaCC™ cartridge. Reducing the amount of packaging material not only results in less waste, it also saves transport and storage costs during the value chain.
The most revolutionary feature of ecopaCC is its collapsible structure. The two conventional, rigid, side-by-side tubes of the two-component cartridges have been replaced with flexible film. These film tubes are inserted into a reusable, rigid support sleeve. Integrated pistons in the support sleeve ensure compatibility with existing two-component dispensers. The rigid support sleeve ensures that the system can withstand the generated extrusion forces. During application, the cartridge compresses as the content is dispensed. Once empty, the collapsed foil can be removed and disposed of.
The use of a foil instead of a rigid cartridge makes ecopaCC cartridges particularly easy to customise for specific applications. For example, longer or shorter foils can be used, which makes a wide range of filling volumes possible. Different filling materials and a variable number of foil layers can also be used to make the cartridges suitable for more demanding adhesive formulations. Up to seven high-tech foil layers can be used with ecopaCC, depending on customer requirements.
Depending on the number of layers and foil material, Sulzer can influence permeability, resp. the oxygen or water vapour amount diffusing into the cartridge filling. Hence, ecopaCC is allowing manufacturers to extend and optimise the shelf life of their products.
Cost savings and environmentally friendly practices should not compromise the performance and functionality. To avoid leakage, Sulzer created a high-integrity connection between the front outlets and the high-tech multilayer foil using an overmoulding injection technology (patent pending). In addition, the mixing tip ensures outstanding mixing performance and accurate dispensing.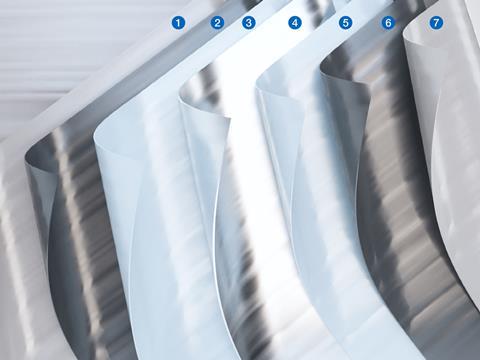 PE: What are the environmental challenges in packaging that your entry addresses, and how well is the market responding to them so far?
MD: The launch of the product on the market is obviously addressing a real market need and has created high interest with customers and new prospects who are currently testing ecopaCC intensely for their adhesive material and applications. Customers using ecopaCC cartridges can reduce plastic packaging waste by up to 82 per cent (e.g. 82 per cent for a 1500mL cartridge or 75 per cent for a 600mL cartridge) compared to conventional, rigid packaging. This is especially critical in industries such as construction and automotive where hundreds of litres of adhesives are used on a weekly basis. Disposal costs can be reduced as disposal charges are calculated on either volume or weight basis. In addition, the outlet nozzles of Sulzer's solution can be reclosed. If the system is not empty after use, the outlets can be closed to avoid cross-contamination and subsequently hardening of the adhesive. This further minimises cartridge waste and increases ecopaCC's green credentials.
In addition to end users, adhesive manufacturers can also obtain similar benefits by using collapsible ecopaCC cartridges. The packaging features a small distribution and warehouse footprint due to its associated lower freight, transportation and storage costs. Thanks to a reduced transportation volume and less weight, the corresponding CO2 emission is reduced. Most savings can be achieved when ecopaCC is filled from the front. This allows the customer to ship, distribute and store the empty cartridge in a collapsed state. As a result, the system is lighter and will occupy less volume compared to conventional cartridge system. If back-filling is requested ecopaCC is provided empty and unclosed at the backside. However, adhesive producers can still benefit from a packaging design that offers the same lightweight advantage with a reduction in overall packaging material volume compared to existing rigid solutions.
PE: 'Sustainable packaging' is a contentious concept which means different things to different people and anyone working in packaging understands that it's easy to make things worse according to one environmental metric while making improvements according to another. In your opinion should there be a hierarchy among our sustainability goals?
MD: There should clearly not be a hierarchy among sustainability goals. That would be contrary to the idea of sustainable development. We understand sustainability as a responsible behaviour towards our customers, partners, shareholders, employees and the environment. We aim to balance our economic, social, and environmental impact.
PE: Clearly, sustainability in packaging needs to be achieved by many stakeholders acting together, not by someone with a silver bullet. Thinking about the wider picture, what areas of innovation or action would you like to see across the value chain in the coming years to meet the demands of nature and society?
MD: Sustainability encourages our business to make decisions over a period of years and decades rather than based on the next quarter's financial report. Decisions based mid- and long-term do justify even higher initial investments into new technical solutions as well as production processes. Sulzer is a company committed to the sustainable use of resources, and we expect our global partners and suppliers to act accordingly.