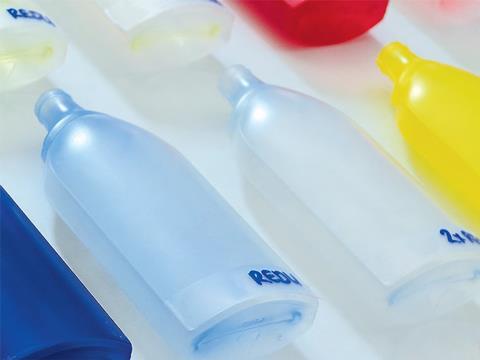 In the next of our interviews with the Sustainability Awards 2020 finalists, we talk with Smart Coloring, whose COLOR-IN / COLOR-OUT process can decolour all kinds of plastic without any harmful chemicals.
---
Congratulations on being selected by the international judging panel as a Sustainability Awards 2020 finalist! Could you please introduce your successful entry and what's innovative about it?
Smart Coloring's technology makes it possible for the first time to recover high-quality almost colourless recyclates from coloured plastics within the framework of mechanical recycling.
These recyclates can be put to an equivalent use and do not have to be further processed into inferior products because of their inherent colour.
This technology has been designed into a colour masterbatch that can be used by plastics processors in their traditional processes without the need for investment or significant process changes.
In the recycling process, the colour is removed from the plastic in a process comparable to the hot washing well known from PET recycling, so that almost colourless plastics/flakes are obtained.
Another future goal is to selectively isolate the colour from the decolorizing bath in order to reuse it in an equivalent way.
What are the environmental challenges in packaging that your entry addresses, and what impact do you hope it will make?
Sustainability will or is already a decision criterion for the purchase of a product - or even for not buying it. Plastics processors, brands, retailers, etc. are "motivated" to act more sustainably by customers, but many have also recognized the need for sustainability to become an essential part of their own company philosophy.
Banning plastic from packaging is not the solution, as it is just as indisputable that due to the numerous advantages plastic packaging brings with it, we cannot and do not want to do without it in the future.
Legislators oblige companies to use a minimum amount of recycled material in their plastic packaging, e.g. by means of Verpack G. But, where do we get it from, if there is not enough high-quality recycling material available?
With the help of Smart Coloring Technology, the share of high-quality, colourless recyclates in the total amount of recycled material is increasing. The costs of the decolouring process are more than covered by the increase in value of the recyclate.
The Smart Coloring Technology cannot solve other major problems in the overall plastics recycling process, such as leakage, which from our opinion has to be mentioned first. It can, however, make a significant contribution to ensuring that plastics that are already subject to an orderly return system, for example, through the dual system or deposit systems, can be reused in a much greater extent in an equivalent manner.
I'd like to ask you about the broader picture beyond your successful entry. 'Sustainability' in packaging is multi-dimensional – both in terms of objectives and challenges. Could you comment on the most important roadblocks you identify from your position in the value chain, and the kinds of solutions you would like to see addressing them (e.g. areas of technological innovation, collaboration, regulation)?
The plastic cycle is a very complex process with many different players with their individual interests. Only a few players are highly vertically integrated, which means that, in the end, they are able to take advantage of the benefits of using the Smart Coloring Technology themselves – using it, bringing it into the market and benefiting at the end from the higher value recyclates.
However, the high level of participation by companies in the numerous initiatives and activities in the context of sustainability shows that companies have undoubtedly recognized that only together can we achieve a truly sustainable solution.
Along the entire value chain, we are meeting, on the one hand, great interest for our technology and, on the other hand, a great willingness to cooperate, so that we are convinced that we can offer and establish a good complement to the purely mechanical and the chemical recycling of plastics.
From a technical point of view, the identification and sorting of packaging materials produced by means of Smart Coloring Technology and subsequently the implementation of a suitable and profitable recycling stream with sufficiently high quantities is a challenge.
What might be very beneficial and could accelerate this process, could be a deposit system similar to the PET system also for PE and PP packaging. This does not necessarily have to be monetary but could also be set up, for example, as part of a customer loyalty program for retailers' own brands.
Packaging is not waste but an asset. If we succeed in making this awareness manifest to the customer, we will also succeed in transforming him from consumer to user.
The customer is ready, so are we.