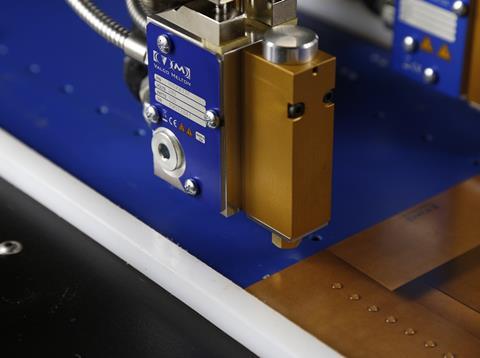 Less than a week to go until the live Sustainability Awards 2019 ceremony at FachPack! Join us to discover the worthy winners of the most prestigious sustainability competition for packaging innovation.
In anticipation of the event, we explore the 25 standout solutions that made it to the finals, handpicked by our independent, expert judging panel. Andy Stamp, director of hot melt equipment at Valco Melton, a finalist in the 'machinery' category', tells us about EcoStitch, its all-electric hot melt gluing solution.
Congratulations on being selected as a Sustainability Awards 2019 finalist! Could you please introduce your successful initiative?
Valco Melton's EcoStitch Technology is a package sealing solution featuring hot melt adhesive application. The EcoStitch solution instantly reduces the hot melt adhesive consumable used on each product, eliminates the use of costly compressed air and removes the need for constant downtime for parts changes and PM's.
What are the environmental challenges in packaging that your entry addresses, and how well is the market responding to them so far?
Eliminating or reducing any carbon based product used in packaging has been an industry trend for many years. Traditionally most manufacturers continue to operate their hot melt sealing systems with pneumatically operated valves and equipment. Historical precedence and fear of change have been the biggest obstacles to overcome. However, as of today eight of the ten largest food and beverage manufacturers in the world have implemented EcoStitch in some or all of their facilities and continue to upgrade to the EcoStitch all electric, consumable reducing and lower carbon footprint product sealing solution by Valco Melton.
'Sustainable packaging' is a contentious concept, which means different things to different people, and anyone working in packaging understands that it's easy to make things worse according to one environmental metric while making improvements according to another. In your opinion should there be a hierarchy among our sustainability goals?
Sustainability can be measured in many ways. One of the most clean and efficient energy sources is low voltage power driven products. The EcoStitch solution provides sustainability in three major categories. Eliminating the use of compressed air means the manufacture is eliminating a very inefficient and costly form of energy. The significant reduction in hot melt adhesive (carbon based) lowers the overall carbon impact that the package has towards the environment while simultaneously reducing the cost of each product produced. Replacing the compressed air component with a low voltage power supplied electric guns makes the EcoStitch solution a lower impact kit for the end user and overall packaging process.
Clearly, sustainability in packaging needs to be achieved by many stakeholders acting together, not by someone with a silver bullet. Thinking about the wider picture, what areas of innovation or action would you like to see across the value chain in the coming years to meet the demands of nature and society?
When customers integrate the EcoStitch solution, they now have a data source that can provide them cycle life, mean time to failure and a futuristic approach to producing the products they manufacture. As society and manufactures become hungry for more and more data to evaluate their own efficiencies and project costs and environment impacts, the EcoStitch solution now gives them the digital data to proactively evaluate technology and solutions setting a new standard from which to develop and grow.
The winners in each category and overall 2019 Sustainability Awards winner will be announced at FachPack, Nuremberg, Germany on 25th September. Join us from 16:30 at FachPack's PackBox Forum for sustainability discussion, networking, drinks and the big reveal.