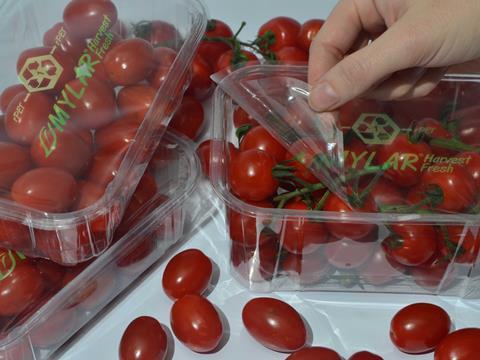 The countdown is on for the live Sustainability Awards 2019 ceremony, where we will unveil the worthy winners of the most prestigious sustainability competition for packaging innovation.
In anticipation, we explore the 25 standout solutions that made it to the finals, handpicked by our independent, expert judging panel.
Today, we turn our attention to the LuxCR™ process from DuPont Teijin Films, which 'upcycles' post consumer waste, potentially unlocking new raw material streams, broadening food contact compliance and opening up long life applications..
Congratulations on being selected as a Sustainability Awards 2019 finalist! Could you please introduce your successful initiative / innovation?
First of all I would like to say it is a great honour to have been shortlisted for such a prestigious event, especially this year with a record number of entrants!
The LuxCR™ process 'upcycles' post consumer waste through glycolysis, depolymerising mechanically recovered PET flake back into the monomer unit bis(2-hydroxyethylterephthalate) or BHET which is then chemically indistinguishable from virgin monomer. This base monomer is then polymerised and subsequently converted into a wide range of BOPET films covering applications as diverse as mono PET packaging structures through to long life industrial applications such as solar panel back sheets, ID cards, durable labels and more.
The use of this monomer recycling process potentially unlocks new raw material streams, broadens food contact compliance and opens up long life applications which all adds to the circularity of PET in packaging applications.
What are the environmental challenges in packaging that your entry addresses, and how well is the market responding to them so far?
DuPont Teijin Films have a long history in promoting the use of post consumer recycled material in BOPET films, being the first company to launch a range of films with rPET content over a decade ago. While the use of mechanically recycled polymer is an option for certain applications, the LuxCR™ process takes the use of recycled material in BOPET films to another level by addressing some of the limitations of mechanical recycling and allowing DuPont Teijin Films to 'future proof' the use of recycled content in our range of films.
Polyester (PET) is already the most widely recycled plastic in Europe and the excellent work done by the mechanical recycling industry will continue to increase the collection and recycling rates, particularly in beverage bottles as that part of the industry responds to the challenging targets set by the EU. However, mechanical recycling does come with some limitations with the loss of mechanical and optical properties over repeated extrusion cycles and some restrictions on direct food contact approval.
I believe monomer recycling will play an increasingly important role to recover material which can no longer be processed through traditional mechanical recycling processes, increasing the circularity of all parts of the PET value chain rather than simply relying on the use of bottle polymer. The LuxCR™ process is an important stepping stone on this journey, proving the glycolysis route for monomer recycling on an industrial scale.
Since launching earlier this year, the level of interest across Europe has been extremely high, particularly in our heat sealable range of films which make a mono rPET tray and lid structure a reality, offering both recycled content and a real prospect of recyclability across Europe as trays and pots start to be collected and processed more widely. The broadening of food contact compliance also opens up high temperature applications such as ready meal lidding and we expect a range of product launches in this area in the coming months. ·
'Sustainable packaging' is a contentious concept, which means different things to different people, and anyone working in packaging understands that it's easy to make things worse according to one environmental metric while making improvements according to another. In your opinion should there be a hierarchy among our sustainability goals?
In my opinion the debate has been too narrowly focused on the huge issues of marine litter across the world, and has sometimes lost focus on one of the primary aims of packaging which is to preserve and protect the product itself. The reduction of food waste has sometimes become a second order issue although I am pleased to see this focus starting to change in public debate. I believe there has also been a loss of focus on the overriding importance to our planet of issues such as CO2 footprint and water usage but expect this to change over the coming months.
We should not lose sight of the fact that flexible packaging structures have evolved over many decades to offer incredibly high performance at low cost and with a low carbon footprint. In many cases I believe the end of life options for these products can be improved without the need for drastic re-design which often comes at a cost in terms of food shelf life or material and processing costs for the packers.·
Clearly, sustainability in packaging needs to be achieved by many stakeholders acting together, not by someone with a silver bullet. Thinking about the wider picture, what areas of innovation or action would you like to see across the value chain in the coming years to meet the demands of nature and society?
I think we all need to be wary of overly simplistic answers to complex problems, and in particular I believe the flexible packaging industry needs to re-focus on the huge benefits that mixed plastic laminates currently offer. Perhaps more energy should be spent in exploring the wide range of potential end of life options that are currently being developed as no single solution is ever going to solve this problem alone.
On a broader scale I am convinced that widespread adoption of some of the new and exciting monomer recycling technologies will have an increasingly large role to play in the PET industry increasing the amount of plastic to plastic recycling, and potentially chemically recycling (or feedstock recycling) will provide alternative end of life options for predominantly polyolefin based structures.
Ultimately, the actions of the industry will not deliver results unless we can better engage and educate citizens to help them understand why packaging is necessary, and what role they play in ensuring a sustainable and circular future.