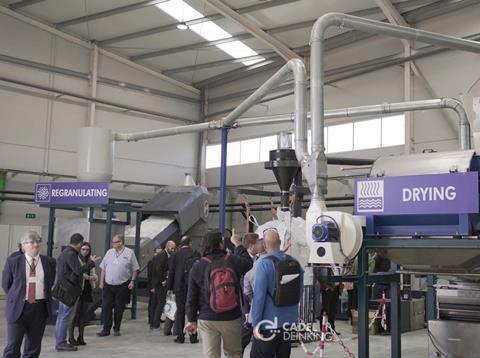 The countdown is on for the live Sustainability Awards 2019 ceremony, where we will unveil the worthy winners of the most prestigious sustainability competition for packaging innovation.
In anticipation, we explore the 25 standout solutions that made it to the finals, handpicked by our independent, expert judging panel. We hear from CADAL DEINKING, a finalist in the 'Driving the circular economy' category for its delamination and deinking of plastic surfaces process.
Congratulations on being selected as a Sustainability Awards 2019 finalist! Could you please introduce your successful initiative?
CADEL DEINKING is a technical company created to implement an innovative plastic recycling process that can remove printed ink from plastic surfaces in recycling and converting companies. This initiative lets us remove ink from plastic before it is recycled and obtain a product with a quality similar to that of new plastic. It can therefore be used in the same applications as a new material. This technology is unique in the world, and its patent has been extended to more than 20 countries.
Cleaning chemicals with water-based formulations are used in the process. Neither solvents nor environmentally hazardous chemicals are included.
Moreover, CADEL DEINKING has important know-how, not only in the removal of the ink, but also in the development of a water treatment system which makes the process both economical and environmentally viable. Both the deinking solution and the rinsing water are continually reused in the system, with the consequent savings in reagents and waste handling.
The deinking process is applicable to all kinds of plastics and works with any kind of ink.
What are the environmental challenges in packaging that your entry addresses, and how well is the market responding to them so far?
Challenge:
The EU28 produces 58 million tonnes of plastics per year and generates 25.8 million tonnes of plastic waste (50 kg per EU citizen), with 30% still being land filled (8 million tonnes). This goes against the EU Waste Framework Directive 2008/98/EC. According to the EU Plastics Strategy, it is necessary to support a smart, innovative and sustainable plastics industry, where design and production fully respects the needs of reuse, repair, and recycling, brings growth and jobs to Europe and helps cut EU's greenhouse gas emissions and dependence on imported fossil fuels.
The market:
Commercialisation of Deinking plants is favoured by several trends in the plastic industry. All of them are based on the need to find a way for the efficient management of plastic waste (economic, environmental and social).
Thereby, the ability to successfully conduct business in this specific environment is driven by the following key factors: 1) growth of new technologies to succeed in this competitive situation, 2) the favourable regulatory scenario for reducing plastic waste, along with increasing EU awareness of the Circular Economy, and 3) increasing consumer demand.
We see a market opportunity:
Deinking technology is aligned with the EU Challenge "Climate action, environment, resource efficiency, and raw materials", which intends to boost innovative waste management solutions, where the target is to increase plastic packaging recycling to 50%, to reduce landfill of a waste to 10% by 2030, and a total ban on the landfill of all separately collected waste.
'Sustainable packaging' is a contentious concept, which means different things to different people, and anyone working in packaging understands that it's easy to make things worse according to one environmental metric while making improvements according to another. In your opinion should there be a hierarchy among our sustainability goals?
We think there should be a hierarchy among all different goals as long as it is balanced. First of all, we should make clear what the goals are so that we all focus on the same direction, and after that, see which are the most achievable in the short term. For example, we know that nowadays we can´t reduce 100% of the plastic pollution, however we can increase the circularity of it. We should increase the recycled plastics used and make sure that they are all 100% reusable. We are ready to make that work as we can produce a material similar to a virgin one. We should invest in these kinds of projects so that we can make a difference from today.
The winners in each category and overall 2019 Sustainability Awards winner will be announced at FachPack, Nuremberg, Germany on 25th September. Join us from 16:30 at FachPack's PackBox Forum for sustainability discussion, networking, drinks and the big reveal.