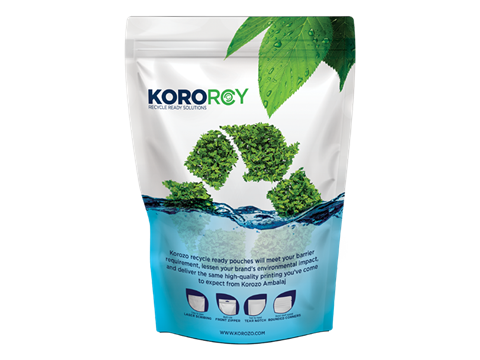 In a recent position paper, CEFLEX strongly recommended the use of recyclable mono-materials for flexible packaging. In our latest Sustainability Awards 2020 finalist interview, we talk with Semih Salhon, vice president of food flexibles at Korozo Group, about a product that puts this guidance into practice: the KORORCY Stand-Up Pouch.
Congratulations on being selected by the international judging panel as a Sustainability Awards 2020 finalist! Could you please introduce your successful entry and what's innovative about it?
Sustainability is in Korozo's DNA. We produce packaging for critical consumption goods such as hygiene, food, and non-food products. For us, this is not a job, but a responsibility towards our country and the whole world. We view all business processes from a sustainability perspective.
In this regard, while developing new products and solutions which increase our ability to compete with global trends, we develop people-friendly and eco-conscious products and solutions and invest in new technologies with a focus on efficiency.
Our sustainability targets and corporate responsibilities go hand in hand. We ensure that the related performance indicators are incorporated with our tracking system and that sustainability is a part of all functions at all stages across the company.
At Korozo, we develop multi-layered films with value-added and recyclable raw materials and structures to meet the expectations of our customers, sales channels, and end-consumers from our products and from us. Our aim is to achieve 100% recyclable or reusable packaging by 2030 and we shape our work around this aim.
KORORCY Stand-Up Pouch, the product of this vision, is a mono-material product and can be fully recycled. The raw material we use for this innovative product supported by R&D is different than what is used in the market. It can be easily recycled for a better PCR quality in single-stream recycling and can re-enter the plastic life cycle after end-use.
In a world where resources get scarcer every day, we know that sustainable economic development will not be possible without conserving natural resources. We believe that our product will contribute to the circular economy while providing consumer convenience.
What are the environmental challenges in packaging that your entry addresses, and what impact do you hope it will make?
Global climate change is the biggest challenge faced by our planet and every step we take to tackle the issues related to global climate change is crucial. Leaving a sustainable world for future generations is the mission of authorities as well as individuals and institutions. With this mindset, Korozo strives to provide its customers with sustainable solutions.
KORORCY is our new generation product developed as a sustainable packaging solution in line with this vision. It contributes to a sustainable world with its recyclability, but it is also ideal for complying with the recycling regulations of local authorities. Mono-material based flexible packaging films are encouraged at CEFLEX (Circular Economy for Flexible Packaging) meetings as well.
With this awareness, our transparent, recyclable, stand up pouch provides extraordinary functional performance in terms of stiffness and barrier production, no-leak seals preventing leakage, end-user convenience, and recyclability for communities with existing PE programs. KORORCY complies with recyclability regulations in Europe and in North America.
Not only does it have a higher percentage of recyclable material, but it also improves PCR (post-consumer recycled) material quality. Korozo aims to support the whole of society and every individual in the value chain with this innovative packaging technology.
I'd like to ask you about the broader picture beyond your successful entry. 'Sustainability' in packaging is multi-dimensional – both in terms of objectives and challenges. Could you comment on the most important roadblocks you identify from your position in the value chain, and the kinds of solutions you would like to see addressing them (e.g. areas of technological innovation, collaboration, regulation)?
We use our deep-rooted production experience of more than 45 years to add value to our planet, environment, economy, society, business partners, and employees and we build our sustainability strategy on this principle. We aim to achieve growth with people-friendly and environmentally friendly production.
I feel confident to say that sustainability is the core of the corporate culture and values at Korozo. Having signed the UN Global Compact, we shape our business processes in line with our sustainability policy with the awareness that nature belongs to society and to future generations.
Using sustainable environmental technologies at our Çorlu plant, we recycle and recover solvent which is hazardous for people and the environment. This way we aim to reduce solvent emission by 2200 tons every year. Again, our aim is to achieve 100% recyclable or reusable packaging by 2030.
Moreover, the packaging industry, like all industries, has learned from the pandemic. During the pandemic, we have witnessed changes both in nature and economies. Therefore, it is necessary for us to adapt to these changes because the pandemic has proven the importance of sustainability, something we have talked about for a long time.