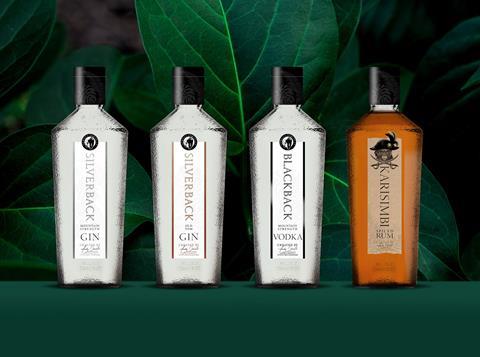 For the next in our series of interviews with the Sustainability Awards 2021 finalists, we find out about Gorilla Spirits, a UK-based company manufacturing its bottles entirely from post-consumer recycled glass, which has been nominated in our Best Practice category.
---
Congratulations on being selected by the international judging panel as a Sustainability Awards 2020 finalist! Could you please introduce your successful entry and what's innovative about it?
Thank you! We are hugely excited that this year sees our range of award-winning spirits get a fresh new look, allowing us to champion the use of bottles made entirely from post-consumer recycled glass. These bottles are stunning in design, significantly kinder to the environment and help raise consumer awareness of the environmental issues that we all face today.
True sustainability means considering every aspect of the supply chain and goes beyond just the raw materials – efficiency is a key factor that is often overlooked. Instead of rejecting bottles with minor cosmetic defaults, we accept all minor imperfections and celebrate them as a hallmark of sustainability. The bottles are embossed with the phrase 'wildly crafted' to encapsulate our sustainability ethos.
What are the environmental challenges in packaging that your entry addresses, and what impact do you hope it will make?
Glass production is a fairly resource intensive process, and as more and more spirits brands join the market, so the need for glass increases. Bottles used by most brands can contain a small percentage of recycled glass, but this usually comes from waste produced in the large-scale manufacturing process itself. In comparison, all the glass that goes into our new bottles is made from the glass that all of us have put into our recycling bins. During this process less energy is required to melt glass than to convert raw material into glass, which helps us to lower CO2 emissions as fuel consumption is lowered, and extraction of virgin materials is reduced.
Environmental impact goes beyond just the type of materials used - our new bottle is 40% lighter than most spirits bottles in use today so requires significantly less raw material and less energy in the production process. We estimate that we will be using around 20 tonnes less glass in the coming year than last, and by reducing the weight of each case by 2.1Kg we will reduce the amount of fuel needed and CO2 emissions generated to transport it.
Another challenge is that in glass manufacture it is common for a percentage of the finished product to be rejected due to cosmetic defects, most being quite minor. By not rejecting these bottles we are able to significantly reduce manufacturing waste, which makes the whole process more energy efficient.
I'd like to ask you about the broader picture beyond your successful entry. 'Sustainability' in packaging is multi-dimensional – both in terms of objectives and challenges. Could you comment on the most important roadblocks you identify from your position in the value chain, and the kinds of solutions you would like to see addressing them (e.g. areas of technological innovation, collaboration, regulation)?
As a small business it is quite difficult for us to engage with the larger manufacturers, both to stay abreast of new developments and to have a voice in offering suggestions. It's a shame because our business is typically more nimble than the big producers and so we are ideally placed to conduct market trials etc. Our ability to do this could help packaging manufacturers get new innovations to market more quickly. With this in mind, we would welcome closer collaboration between large manufacturers and small producers like ourselves.