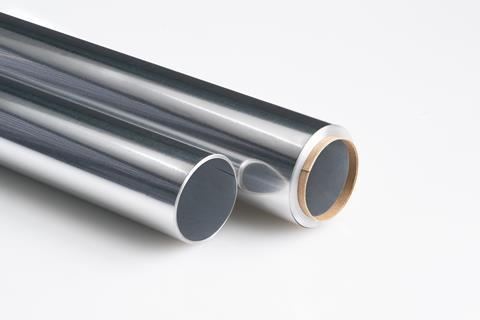 In our latest Finalist Interview ahead of the Sustainability Awards, we asked Rotomac about its technology for producing coreless aluminium foil rolls within its ICEBREAKER 167 - CORELESS machine, nominated in the pre-commercialized Climate category.
You're a finalist in the Sustainability Awards 2023. Congratulations! To start off, could you summarise your entry, in less than 50 words?
At ROTOMAC (a brand of IMS TECHNOLOGIES), we developed an innovative technology to produce aluminium foil rolls without a core. Embedded in our 'ICEBREAKER 167 - CORELESS' machine, this is a technological breakthrough enabling huge reduction in both carbon emissions and paper consumption while ensuring massive savings on stock and logistics costs.
Why do you think the judges were impressed with your entry? Tell us about what is innovative about your project and/or about its impact on packaging sustainability.
We believe the coreless roll produced by our ICEBREAKER 167 machine is a turning point in the packaging industry, as it offers an array of benefits all contributing to a sustainable packaging standard.
In cases where a paper sheet is put at the heart of the roll instead of the core, paper use is reduced by at least 73%. Paper sheet can also be avoided depending on the size of the roll, thus enabling a 100% reduction of paper use. The ICEBREAKER 167 automatic rewinding machine contributes to the reduction of CO2 emissions because it makes little or no use of paper, saving 326 kg of CO2 for every ton of cardboard not utilized; on the other hand, if paper sheets are used instead, trucks to carry the cores will not needed, meaning a 87.5% reduction in carbon emissions from transport.
There is also no dust generation during the production process and no adhesive material to glue the aluminium and paper sheet together. The absence of the core unlocks substantial warehouse space savings for companies, ensuring a sharp reduction of 87.5% in stock and logistics costs. The coreless roll's quality is demonstrated by its smoother and more uniform external and internal surfaces.
When and how do you intend to launch/commercialize this innovation?
The ROTOMAC's ICEBREAKER 167 rewinding machine was officially launched last May at interpack in Düsseldorf, where it received very positive feedback. Since then, customers from around the world, including some of the major players in the market, are expressing strong interest in this innovative machine. We expect to install the first machines during Q4 2023.
You're shortlisted for the Climate category. What do you see as the key demands and challenges in relation to reducing the carbon footprint of packaging and packaged goods?
Reducing the carbon footprint impact of packaging and packaged goods implies an all-around approach involving all the steps of the supply chain, from raw material sourcing to disposal. At ROTOMAC, we see the main challenges as follows: First, the demand for packaging made from recycled or environmentally friendly materials is increasing, however it is important that these materials enable the production of cost-effective packaging solutions. Secondly, packaging design plays a role in reducing carbon emissions throughout the lifecycle. Lightweight designs imply fewer materials and less energy for production, while maximizing space-efficiency. This is one of the objectives of ROTOMAC's coreless roll, as we shifted from a carboard core of 27 grams to a slight paper sheet of 7.2 grams.
Third, the challenge which has driven the conception of our coreless roll is transportation. Acting on transportation means optimizing the use of trucks and shipping routes to reduce emissions and this is subsequent to material optimization. One of the biggest challenges consists of producing packaging and packaged goods that play in favour of sustainability, but also enable appropriate product use as well as a favourable return on investment.
Finally, the above challenges are interlinked and rely on the concept of a circular economy, which is the main goal when talking about climate change. Reducing packaging for recyclability, improving collection, recycling infrastructure, and creating markets for recycled materials are all necessary steps to reduce carbon emissions.
What do you think are the main opportunities in this area or what future innovations do you predict in this area?
We think that the main opportunities are related to material optimization, meaning fewer types of material and less material overall. Therefore, we foresee a future with more "mono-material" packaging solutions, combining benefits for the environment, the supply chain and for end users too.
The winners of the Sustainability Awards 2023 will be announced at the Sustainable Packaging Summit, which takes place in Amsterdam on 14-15 November. The Summit mobilizes leaders of the FMCG value chain, policymakers, NGOs, recyclers and investors to collaborate, remove barriers and identify opportunities on the road to sustainable transformation.
To learn more or register, visit https://www.packagingsummit.earth/amsterdam2023/.
If you liked this article, you might also enjoy:
The L'Oréal approach to packaging sustainability
What steps is Apple taking to make its packaging more sustainable?
How did Brazil achieve its 100% aluminium can recycling rate – and can it be replicated in the EU?
Experts have their say on the EU's Packaging and Packaging Waste Directive revisions