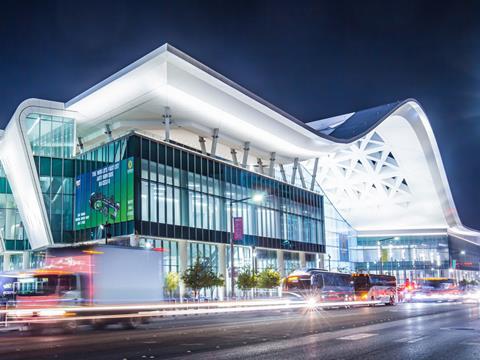 The fog of jetlag having cleared following his return from Pack Expo Las Vegas, Packaging Europe's brand director, Tim Sykes, looks back on some of the highlights and wider trends on display at North America's key packaging event.
Some years ago at an unspecified European trade show, I was chatting with an unspecified, medium-sized flexible packaging converter. Their two big news announcements were a new range of recyclable mono-films, and making a move into the American market. I asked whether the new mono-films would be available in the States. "No," came the answer. "There isn't enough interest in sustainability in that market."
The days when there was an element of truth in that view have long passed, but I've never seen sustainability take such a high profile as it did at this year's excellent Pack Expo in Las Vegas. Sustainability was overwhelmingly the number one theme throughout the showfloor as well as the parallel conference program.
I was particularly impressed by the Sustainability Central exhibit, thoughtfully curated by Fuseneo, and a reflection of the important role that start-ups play injecting dynamism into the space by reimagining problems. Here I encountered Scrapp's consumer-facing app which offers disarmingly simple UX on top of a mountain of in-house research supplemented with crowd-sourced information. Simply scan an item of packaging and, if you're located in North America or other participating regions, it will tell you whether and how you can recycle it in your municipality.
Other disrupters emphasized alternatives to the plastic waste issue: Evowave's edible seaweed-based cups; alternative cold-chain insulation materials such as Cruzfoam's biopolymer and TemperPack's paper-based cushions; and the impressively versatile injection moulded Paperfoam, certified as recyclable in the paper stream.
Indeed, it often seemed as though 'fiberization' was the overriding theme of Pack Expo. Away from the start-ups, this was evident in the booths of the major players. WestRock's exhibit underlined the opportunities for fibre materials to address concerns around plastic waste with its water-resistant (and still recyclable) WetTech corrugated board, and paper-based alternatives to stretch wrap.
I was excited to run into 3M's Tom Corrigan, inventor of one of my favourite innovations of the last year, and to finally experience in person the ingenious Scotch Cushion Lock, where fiberization and e-commerce, two headline trends of the moment, converge. The simplicity of dispensing and wrapping at point of fulfilment and the startling transformation of rolled paper into a voluminous, robust and flexible buffer, combined with a positive consumer experience and kerbside recyclability mean this is destined to be a popular solution for small-medium e-tailers.
Amid the general rush for fibre alternatives, I heard more than a few conversations about the importance of being science-led in terms of sustainability, not simply giving consumers what they currently perceive as green. And of course, beneath the eye-catching advances in paper functionality, plastics continue to be irreplaceable thanks to their sheer resource efficiency. Often today the progress in polymers is less headline-stealing because it consists in incremental advances, and many of the key breakthroughs in the transition from multi-material to mono films have already taken place and received their top billing in previous editions of the show, on the booths of market leaders such as Amcor.
Nevertheless, this important task of converting portfolios to designed-for-recyclability continues apace. ProAmpac's booth displayed an array of new ProActive recyclable flexible solutions, covering more challenging applications than before, while (as a material-agnostic business) also rolling out paper-based barrier solutions for frozen, dry, and pet food.
It was actually here in the realm of flexible packaging that AI and smart packaging – identified by WPO President Pierre Pienaar in his media briefing at the show as a trend to watch – caught my eye in Las Vegas. ProAmpac introduced 'ProActive Intelligence', while a highlight of the Amcor booth featured their collaboration with VerifyMe: integrating into individual bags unique codes based on the new GS1 Digital Link standard to provide data-driven brand protection and standards-based traceability.
For several years smart packaging has been dazzling in its capabilities, but largely confined to high-margin niches due to costs. A humble QR code on a bag may not look much at first glance, but delivering viable traceability at scale could be quietly revolutionary.
Indeed, digitization may not have been the winning trend at this year's Pack Expo, but look below the surface, and it's clearly going to be the subject of many headlines in years to come, not least because it's a space that is attracting many of the sharpest young brains entering industry.
Chatting with Rockwell Automation's Sinethemba Zulu, I was sufficiently impressed with how the smart manufacturing giant's latest platforms help producers visualise energy outputs and identify opportunities to better manage costs and emissions. However, what really made Sinethemba's eyes light up was talking about how he envisages the next wave of machine learning going a step further in enabling manufacturers to spot patterns faster - and interpret them better.
The beauty of this industry is that it never stops moving. A great reason to cross the Pond again when Pack Expo returns to Chicago next year.
If you liked this article, you might also enjoy:
The L'Oréal approach to packaging sustainability
What steps is Apple taking to make its packaging more sustainable?
How did Brazil achieve its 100% aluminium can recycling rate – and can it be replicated in the EU?
Experts have their say on the EU's Packaging and Packaging Waste Directive revisions