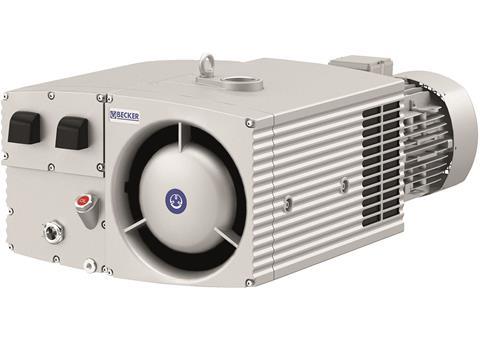 Everyone is talking about deceleration, but not the new rotary vane vacuum pump, which Gebr. Becker GmbH is exhibiting at the FachPack trade fair from 25 to 27 September 2018 in Nuremberg. Thanks to the shortest pump-down times, the Becker U 5.300 increases efficiency and productivity and at the same time reduces process costs. The new vacuum pump is thus a targeted response to the demands of our time.
The growing challenges that food packaging has to deal with due to this trend also place enormous demands on modern machines. This calls for even more efficient packaging processes and the development of increasingly productive plants and systems that, for example, package meat, sausage and cheese faster in vacuum packaging, or keep fish and seafood fresh in a modified atmosphere.
"Standard vacuum pumps can no longer significantly reduce evacuation times, so at Becker we questioned every known part of a vacuum pump and replaced it with better components and solutions. The result: The new U 5. series from Becker. Detailed test series confirm that with at least seven per cent faster evacuation times compared to commercially available vacuum pumps, they are among the most efficient high-performance vacuum pumps for the food packaging market," says Frank Rischewski, Project Manager R&D-P New Product Projects, who was instrumental in the development.
The objective of food processing companies is to make the cycles in the packaging process as fast and economical as possible. "Every tenth of a second is hard cash," says Sebastian Lehmann, Market Manager Packaging at Gebr. Becker. And adds, "With the Becker U 5.300, we are consistently expanding the series and offering our customers a ground-breaking product that has been specifically developed to meet their wishes and requirements, especially in the food packaging market."
Compact structural dimensions ensure the smallest footprint and easy integration into packing machines without expensive special-purpose machinery. Optimised rated motor power reduces power consumption and guarantees energy-efficient performance. Highly efficient air de-oiling elements ensure a long service life and service intervals. Smooth product surfaces facilitate quick and easy hygienic cleaning.
In the U 5.-O2-Pack version, it also provides a safe and easy way to pack red meat and seafood with concentrated oxygen. Thanks to lifelong oil lubrication, this pump version does not require an oil change. It has the same length as the standard unit in the U 5. series. This means no product extension through additional separation and simple integration into the packaging machines.
For even more speed, high operational reliability and availability, the Becker U 5.300 can also be optionally used as a partially centralised pumping station solution in combination with a Becker RBP booster pump for fast high-performance packaging processes.
The efficient pumps in the U 5. series are also ideally suited for use with and without a Becker RBP booster pump in central vacuum systems.
A vacuum pump is essential for the vacuum supply in a packaging machine. It evacuates air from the vacuum chamber and is responsible for obtaining the lowest possible pressure and/or the highest possible vacuum in the packaging after heat-sealing it. Airtight sealed packaging ensures high quality with a long shelf life. In order to create a protective atmosphere in the packaging, a gas can additionally be jetted into the packaging. This process maintains the freshness, appearance and taste of food.