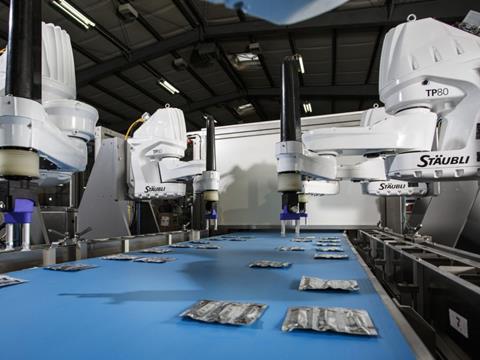 At this year's FachPack trade fair, Stäubli will be showcasing a wide of range of dynamic four-axis and six-axis robots, including the completely redesigned TS2 SCARA series. With kinematics designed sorting, filling and packaging under all possible environments – from hostile to sterile.
Stäubli Robotics Division Manager Peter Pühringer is looking forward to this year's show: "Stäubli has been a market leader in packaging in sectors such as food and life science for years, but we have never been as well positioned as we are now. With the new, highly dynamic TS2-SCARA, the popular TX2 six-axis series and the ultrafast TP80 FAST pickers, we are able to offer optimal solutions for all applications."
Stäubli has a robot to suit a huge range of industries and production environments. They are able to manage filling or packaging in the food and pharmaceutical sector and deployment in the consumer goods sector, Stäubli's robots are even able to cope in harsh conditions such as cleanroom or aseptic production; the versatility of these robots enables them to be easily adapted to industry-specific requirements.
The comprehensive range of specialist robots includes additional variants such as HE (i.e. Humid Environment, splash-proof wash-down design), H1 (lubrication with food-grade oil), Cleanroom, Supercleanroom and Stericlean (for use in aseptic environments). With all of these available options, four-axis and six-axis systems can be readily configured for almost any task.
TS2 SCARA series redefines high performance
Peter Pühringer expects a significant increase in sales of the new four-axis models: "With the TS2 SCARA series, we have made a breakthrough into an unprecedented performance class. Our proprietary JCS drive technology, developed in-house, facilitates the shortest possible cycle times as well as a pioneering hygienic design that opens up new application opportunities. The new SCARAs are available in a range of specialist versions, ensuring their industry-specific requirements are no longer restricted."
The differences between the new robots and their predecessors are immediately apparent. What stands out is the compact, enclosed design with internal media and supply lines, no external cabling, no irregular contours or sources of mechanical failure and no unnecessary particle emissions. Completely sealed housing, the quill (400mm stroke available) optionally protected with a cover and affixed with special screws, concealed connections under the robot pedestal (if so desired), and dead spaces systematically excluded – these are the essential requirements of a modern hygienic design.
This specification allows the manufacturer to offer the SCARAs in HE, H1 and other special versions, including ESD. The robots can now be optionally ordered with an integrated tool change system significantly expanding their range of applications – for example in the primary packaging of foodstuffs.
To provide the ideal solution for all applications, the new SCARA family consists of four members, the TS2-40, TS2-60, TS2-80 and TS2-100. The TS2-100 has an impressive working radius of 1,000 millimetres, which really comes into its own in tasks that involve transfer and packaging. Overall, the SCARAs are considerably more compact than their predecessors and come with a significantly lower footprint.
The dynamic range of four-axis and six-axis machines
There are a number of other arguments in favour of using Stäubli robots in packaging processes. For example, the speed of the SCARAs and the six-axis models, which is significantly above average, and even more so for the FAST picker. The four-axis TS2 and the six-axis TX2 series are among the fastest robots of their kind at over 100 picks per minute, while TP80 FAST picker can manage up to 200 picks per minute.
In addition, all of the manufacturer's machines scored highly for reliability and ultra-long service intervals. None of these robots is subject to any performance restrictions, even when they are operated with food-grade H1 oil as their lubricant.
Stäubli offers innovative software solutions for sorting, filling and packaging applications with continuous part tracking. The VALtrack standard software comes highly recommended for such conveyor tracking tasks. Peter Pühringer: "We aim to impress visitors to FachPack with this comprehensive range and to further expand our market share in the packaging sector."