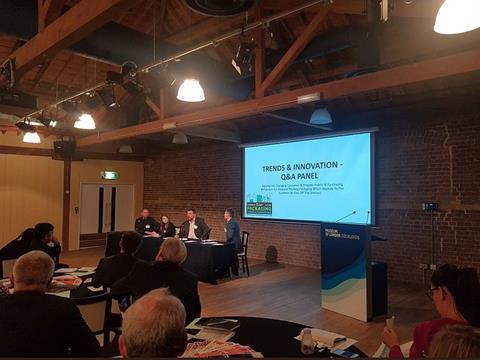 On Wednesday, October 10th, retailers and manufacturers gathered at the Museum of London Docklands for the 2018 Packaging Trends and Innovations Conference. The annual event provided an opportunity for stakeholders across the sector to come together to discuss the emerging trends and challenges for the packaging industry.
James Butcher, managing director at own brand grocery retail specialist Solutions for Retail Brands, provides a review of the event.
With attendees from major household brands including Coca-Cola, Innocent and Mitchells & Butlers on the delegate list, the variety of speakers and panellists throughout the day certainly didn't disappoint.
The opening panel discussion, which included myself, Katie Griffiths (marketing manager at Wheyhey) and Matthew McAuliffe (head of product development and inspiration at Winterbotham Darby & Co Ltd) focused heavily on what brand owners need to consider when it comes to packaging in order to appeal to customers and sell more products.
At the centre of the panel discussion, it was clear transparency and consumer trust needs to be at the heart of any new design. Gluten-free and sugar-free products were discussed specifically; and while gluten-free may provide a 'healthier' option for those with certain conditions such as coeliac, there is no scientific evidence to suggest they have any additional benefits. This is particularly important because many consumers buy gluten-free due to the opinion that 'this must be good for you', but can often be less healthy than their gluten equivalents in other respects. It became apparent that there is an obvious need for clear packaging which conveys a brand's messages, but also allows honest health comparisons to be made easily by customers.
Discussions also touched on the idea that food products may soon be contained in two types of pack; one for in store and one for home delivery. For example, a 'window pack' in store would obviously be more important to allow customers to clearly see the product contents on the shelf. These products typically are made up of mixed materials including plastic, but it was also questioned why retailers couldn't use more environmentally friendly cartons that remain aesthetically pleasing, still convey the brand messages, but are made more sustainably.
Much of the rest of the morning's case study discussions linked back to the challenges facing manufacturers and suppliers when it comes to waste and plastic. It was interesting to hear more about the future of Coca-Cola's packaging strategy and how new public policy frameworks had affected its operations.
Duncan Simpson from Valpak and Hans van Bochove from Coca-Cola both confronted head-on the fact plastic is perceived as 'public enemy number one' but that it is more environmentally-friendly than other materials when measures against CO2 and overall carbon footprint. The issue is not the material, but the methods of recycling and re-use. A point re-iterated by Louise Stevens from Innocent Drinks, who remain committed to recyclable and also plant and recycled content.
Probably the biggest myth Simpson tried to dismiss was the issue with black plastic. It can be recycled, but is not widely recyclable. So the issue is arguably infrastructure, not material. Often the problem is created from the recycling of many coloured plastics. If the industry eliminates black plastic then the next issue with be coloured plastics, which have no re-use.
Following a series of informative networking sessions and peer-to-peer discussions, the afternoon's discussions turned to consumer engagement and collaboration, and how retailers can utilise this information to produce better and more sustainably packaged products. Louise Stevens, head of circular economy at Innocent Drinks shared their approach to engaging customers when it comes to packaging. Innovative – as we've become to expect from Innocent – but illustrated the need to engage consumers in the discussion.
The final session then challenged the discussion by introduction of food waste as a subject. One of the biggest positive impacts to reduce food waste has been the increase in single-serve packaging. Reduced food waste, but increased packaging waste. Leaving the room to answer the question: which is worse?
The answers are obviously not simple. More needs to be done to ensure recycling and a real circular economy for packaging. It all links back to the theme of transparency – a theme that embodies our research and work at S4RB. Clear and clean labels are key. Communication between customers, retailers and suppliers is crucial to ensuring all parties are on the same parameters when it comes to feedback, allowing product development and packaging teams to listen to demands and act where necessary. This was the main take-home for me. The fact that consumers like simple messages and that is currently that "plastic is bad". But this can be a misnomer - especially when it comes to black plastic. The debate continues.