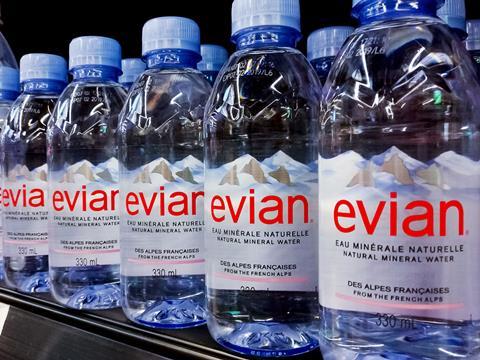 Evian, a bottled water brand owned by Danone, has announced that it has received carbon neutral certification from the Carbon Trust across all the countries where it has a presence.
Evian achieved the PAS 2060 certification through the company-wide implementation of lightweighting, increased use of rPET, greater reliance on renewable energy during production, and enhanced transportation models.
In addition to these efforts, the brand has also partnered with the Livelihoods Carbon Fund. Through this partnership, Evian aims to help to preserve and restore natural ecosystems and improve the lives of local communities - notably through the plantation of 13 million trees which act to offset Evian's remaining carbon emissions in order to achieve carbon neutrality.
Shweta Harit, Evian global brand VP, said: "Today's announcement comes at a moment when we are seeing, in real-time, what can happen when we reduce our impact on the planet. Emissions are lower and pollution levels have dropped.
"Lessening our environmental footprint is at the core of everything we do at Evian, and that is why today's announcement is so important for us. The current health crisis provides us all with a renewed impetus to do more and create long-lasting change, and it has been heartening to see the world come together.
Hugh Jones, Managing Director, Advisory, at the Carbon Trust commented: "The Carbon Trust is pleased to have worked with Evian on its achievement of carbon neutrality, recognising its progress in low carbon design, production, and distribution. We wish Evian well in pursuing its future sustainability ambitions, including a 100% circular approach by 2025."