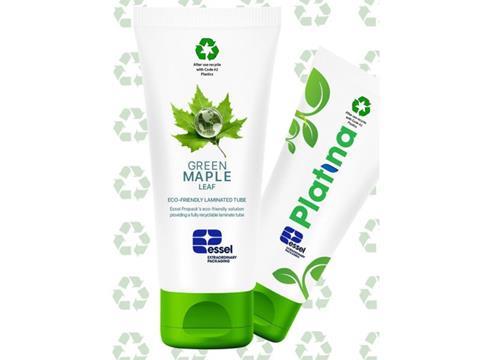 Essel Propack Ltd has announced the launch of its recyclable Platina and Green Maple Leaf lamitubes for oral care, beauty & cosmetics and pharmaceutical products.
These two innovations have been certified by the APR, USA, which enables tubes to be recycled in the HDPE stream. The company labels this innovation as a breakthrough in the tube packaging market, essentially for brands looking to convert to sustainable packaging formats which are recyclable.
The R&D team based out of Essel's focused innovation facility in Maharashtra, India worked extensively on the several design and layer options to arrive at the HDPE recyclable structure. The challenge during development was to keep usability of the tube intact, along with maintaining the product freshness till the shelf life committed on the product and also meet the quality & technical machinability requirements for the different generation of production lines. Platina & GML has received all necessary approvals and certified by the Association of Plastic Recyclers (APR), USA meeting the set guidelines of APR .
Platina & GML will be offered in a HDPE base which falls under the Code-2 plastic used across the globe for products such as shampoo bottles. This will enable the tube to be solid, with all required barrier properties, sturdy and also have a definitive bounce back retaining shape of the tube till end use.
Essel Propack's business leadership team commented: "We are extremely delighted, as this will open the doors for many such innovations in the near future and we will proactively reach out every customer to convert to this packaging format. We will work with each and every customer to offer them the technical expertise and increase the economy of scale to make this an easy adapting solution for every brand. This will enable Essel Propack to globally participate with customers and help them to achieve their sustainability commitments."
Following this development, Essel will be working closely with partners to streamline the value chain of the tube usages and disposal of the same along with the reusability of its contents in different product streams. The company will promote this to its partners, work with different municipalities and local agencies, raw material users where the tube recycled resin qualifies to be out into different product raw material streams. One of such an initiative has been Project Liberty & Etain (PCR) tubes.