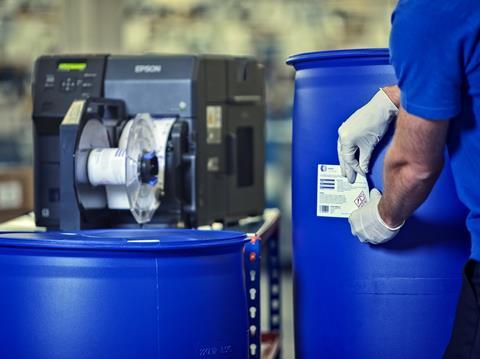 Epson's ColorWorks label printers will be out in force on its stand at the PPMA this autumn. In addition there are robots that will turn heads, including the UK's first showing of Epson's new six-axis model.
"The PPMA show generates a great number of enquiries and sales for Epson. It is popular with technicians and engineers from manufacturing industries and at the Epson stand they can now view both labelling and robotics solutions," says Dayle Guy, product manager for Epson (UK).
"This year we are running the successful cash back trade-in promotion in the build up to, and during, the PPMA show. Companies trading in an older label printer and replacing it with a ColorWorks C7500/7500G or a ColorWorks C3500 will secure a £500 or £100 payback respectively. The scheme runs until 30 September.
"Our ColorWorks label products are designed to meet current and future legislative needs (safety, contents data etc) and can cover both functional or brand promoting requirements. They provide an effective on demand, short run service, which can be integrated into the manufacturing process. For those who need to track stock there is even the potential to use colour smart labels with RFID or NFC wireless solutions. Experts from Epson, together with a number of our key business partners, will be on hand to discuss specific labelling requirements and visitors will find a warm welcome at our stand."
Epson is unusual in offering label systems to both professional label converters (the SurePress range) and to manufacturers needing to produce labels at the point of production (with the ColorWorks desktop and LabelWorks handheld devices). Each sector has quite distinct needs but both require systems that are cost-effective and productive.
The Epson ColorWorks range means print on demand output and a quality, cost effective solution. It is a convenient but also sustainable method of labelling, printing only what is actually needed rather than ordering long runs and binning waste copies.
The Epson ColorWorks C7500 will be on show operating with a rewinder. This is a high quality, industrial printer which is popular in manufacturing environments. With Epson's PrecisionCore printhead, the ColorWorks C7500 provides reliably good results and its unique Nozzle Verfication Technology (NVT) and dot substitution helps prevent misprints and dead pixels so that consistent print quality is maintained. It prints at up to 300mm/second and at 600 x 1200dpi image resolution and can produce a wide range of media, including continuous tickets, fabric labels and synthetic die-cut labels with a matte or gloss finish. There will also be a C7500G on show which produces labels on gloss stocks and matte media.
This year at PPMA the Epson colour label printers are printing on a range of Emax media for a variety of applications which will demonstrate the huge versatility of the printers.
The ColorWorks C3500 is a labelling system that is ideal for independent producers and manufacturers requiring shorter print runs and lower volumes of labels, tags and tickets. It is a 103mm/second model which can handle a variety of media, including matte and gloss-coated papers and synthetic media in a wide range of formats and sizes.
This inkjet printer lays down colour from the printhead in a series of "passes" over the substrate; the new four pass process and it is that development which enhances the depth of colour and improves the contrast and quality results. Users can upgrade their printers to include the new high quality print mode by installing the latest firmware and drivers from the Epson web site. The ColorWorks C3500 will be demonstrated producing eye-catching product labels on demand.
The Epson GP-C831 is the GHS certified printer for producing 8 inch wide durable colour labels and is especially suited to creating safety and signage labels to meet current and potential legislation. Applications include GHS and British Safety labels and products for energy, pharmaceutical and food sectors plus many more! The combination of MicroPiezo variable droplet technology, DURAbrite Ultra pigment inks and PE Matte label media provide labels which are light fast and resistant to abrasion and exposure to alcohol, oil and many chemicals. It can operate in the harshest environments, even petrochemical.
Included in the robots line-up is the new N6 compact six-axis robot, having its first showing in the UK. This has a 1000mm 'folding' arm which is hollow for the easy housing of connecting cables and hoses. It is ideal for working in tight spaces and will appeal to packing and manufacturing operations looking for a robot that can pick and place loads of up to 6kg.
A smaller four-axis SCARA G3 robot with an arm of 250-350mm for carrying payloads of up to 3kg will also be demonstrated. Both robots on show use the RC700-A adaptable and intelligent controller. Epson has been producing robots for over 30 years and has 300 robot models with an arm reach range of 175 to 1000mm and handling payloads of up to 20kg.
25 – 27 September, NEC, Birmingham, Stand B22