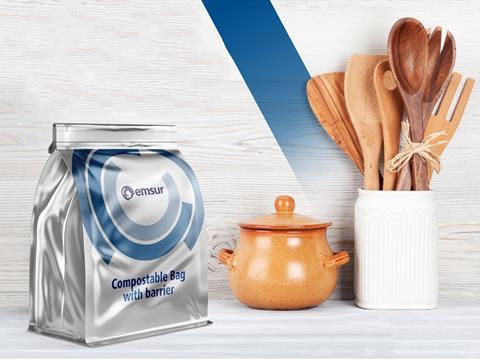 EMSUR has announced a brand-new compostable barrier bag, specially designed for the coffee market.
This new flexible packaging solution, developed by the EMSUR Group at its EMSUR Valencia Saymopack facilities in Algemesí, has been created to respond to customer demand for a two or three-layer barrier bag of a sustainable origin which offers compostable characteristics. The laminar structure can reportedly be applied to different high added value categories such as dry food, snacks & confectionery or pet food. EMSUR also reports that the product is applicable both for rotogravure and flexographic printing and is transferable to other plants in the group worldwide.
According to the company, all the materials used to manufacture this product have a certificate of compostability as specified by UNE-EN 13432.
The product is made from a high-performance triplex structure that uses adhesives and special inks that are also compostable. The bag can be transparent, opaque or colour-printed, in gloss or matte, with a wide range of visual and sensory effects to enhance product differentiation.
In addition to its reported sustainability, EMSUR argues that the main advantage of this new packaging is its excellent barrier properties compared to other compostable plastics.
The product illustrated in this article is a coffee bag for a compostable rigid capsule that can also have a compostable lid, affording what EMSUR describes as a "totally environmentally-sustainable solution" when paired with a compostable capsule like the ones produced by COEXPAN, Rigid Packaging division (rigid plastic sheet and thermoformed products) of Grupo Lantero.