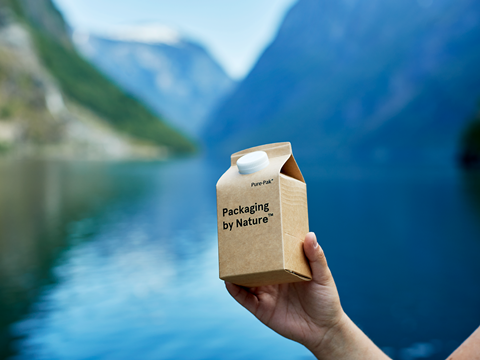 For our latest Innovation Spotlight, carton packaging specialist Elopak unpacks a number of its sustainability initiatives, including its most environmentally friendly carton to date.
Elopak is a leading global supplier of carton packaging and filling equipment for liquid food, catering to both the fresh and ambient markets.
Our iconic Pure-Pak® cartons are designed with the environment, food safety, and convenience at the front of mind. Using renewable, recyclable, and sustainably sourced materials, Elopak provides innovative packaging solutions that offer a natural and convenient alternative to plastic bottles and fit with a low carbon circular economy.
In line with our strong focus on sustainability, we recently published our 2019 Sustainability Report. Among the successes recorded in the report are a 20% reduction in the carbon footprint of cartons with closures since 2014; an increase in the sales volume of FSC™ (FSC™C081801) certified cartons from 1% in 2010 to 47% in 2019; and the avoidance of 12,000 tonnes of greenhouse gas emissions (GHG) due to the use of renewable plastics in cartons and closures.
The company has also previously reported a number of key environmental milestones, including the reduction of our emissions by 70% between 2008 and 2018, the transition to 100% renewable energy, and the attainment of carbon neutrality in 2016.
In 2019 Elopak was one of 87 companies, and the first packaging company, to lead the way at the UN Climate Action Summit by signing up to the Science Based Targets initiative commitment to keep global average temperature rise below 1.5°C.
In line with our mission to provide customers and consumers with more sustainable packaging options, Elopak continues to push itself towards new goals. These include a 55% reduction of internal GHG emissions by 2030, and a 16% reduction in emissions across the value chain by 2030 from a 2017 baseline, as approved by the Science Based Targets initiative.
Innovation is set to play a key role in helping us meet our ambitious targets going forward, with the company increasing R&D spending by 25% between 2017 and 2019. Recent innovation efforts contributed to the launch of our most environmentally friendly carton to date - the Pure-Pak® Imagine. Launched in 2020, the carton is a modern version of our original Pure-Pak® carton, containing 46% less plastic and designed with a new easy-open feature. It has no plastic screw cap and is 100% forest-based made with Natural Brown Board.
Elopak was founded in Norway in 1957 and is wholly owned by the Ferd Group. Today Elopak employs 3,000 people and sells in excess of 15 billion cartons every year across more than 80 countries.
This content was sponsored by Elopak.