How can companies across the packaging value chain build a strong sustainability strategy from the ground up? Elopak, the focus of our latest Wider View article, is a clear example of how this can be achieved through putting environmental efficiency at the heart of product design, customer support and day-to-day business operations. Victoria Hattersley spoke to Chief Marketing Officer Patrick Verhelst to find out what this looks like in practical terms.
Elopak is a Norway-based supplier of carton packaging and filling equipment with a global outreach. It was also one of the finalists in our 2022 Sustainability Awards with its Pure-Pak® eSense carton. The company has a strong environmental ethos with a focus on educating the industry about the benefits of fibre-based solutions as well as the importance of corporate responsibility. As we will see, the lessons of its broader sustainability strategy can be applied to companies across the value chain.
"Part of our strategy is getting companies and consumers to transition away from their habitual reliance on plastic bottles and realize that cartons are a far more sustainable solution," says Patrick Verhelst. "At Elopak we call this the 'plastic to carton conversion'."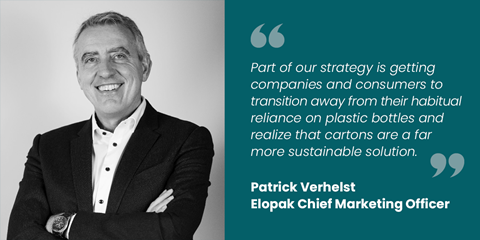 This 'conversion' is a cornerstone of Elopak's approach and there are numerous real-world examples of its application. In 2022, the company's US-based partner Boxed Water Is Better® joined forces with CorePower Yoga – the largest yoga studio brand in the US – to replace all single-use plastic water bottles at its more than 200 studios nationwide. Elsewhere, the Irish company Glanbia switched its Avonmore milk brand from PET bottles to Elopak Pure-Pak® cartons.
Elopak is even breaking into new product segments. For instance, in 2021 it partnered with Orkla and their brand Klar to provide refill packs of soap and laundry detergent packaged in cartons, followed by several other Orkla brands the year after. And this year it started packaging mouthwash for German oral care brand Paperdent.
"Innovations such as this are crucial in communicating to companies and consumers alike that containers made of paperboard are a sustainable packaging option."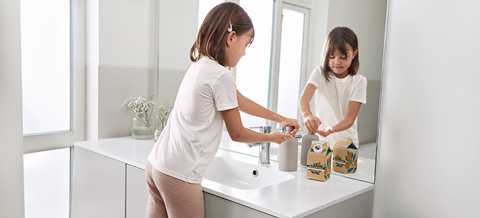 The benefits of fibre-based solutions
That last point is key: when you look at the evidence it's easy to comprehend Elopak's strong emphasis on moving from plastics to cartons. Fibre-based packaging has long been recognized for its environmental benefits and beverage cartons are designed to be fully recyclable. Associations such as ACE (the Alliance for Beverage Cartons and the Environment) say that on average beverage cartons score significantly higher than PET bottles and single-use glass bottles from a sustainability perspective. According to ACE, 51% of all beverage cartons placed on the EU market in 2019 were recycled.
Furthermore, Life Cycle Analysis (LCA) studies have shown that cartons have a much lower overall environmental impact than plastic bottles. One such study from the University of Southampton showed that for fruit juices, cartons were less impactful than either plastic or glass bottles.
Still there is a lot that can be done to further reduce the environmental footprint of cartons and simplify the recycling process – a challenge that Elopak is addressing through its own product development. Its Elopak Technology Centre is focused on creating the optimal carton solutions for customers. One of the results is its latest innovation, Pure-Pak® eSense, the first aseptic gable top carton made using a polyolefin-blend barrier as opposed to aluminium.
"This equates to a much smaller carbon footprint than cartons containing aluminium – up to 50% smaller when compared with a standard aseptic carton," says Patrick Verhelst. "This is because it is very energy intensive to extract and process aluminium. Polymer-based layers allow for a one-operation separation of the fibres which simplifies the recycling process."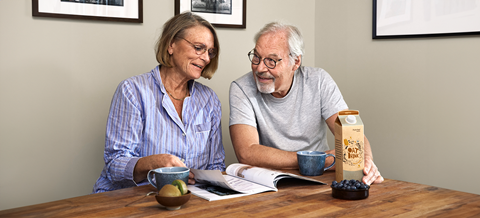 The value of partnership for product development
As it works to meet the challenges of sustainability through new product development, Elopak, like many other companies we talk to, is also well aware of the vital importance of cross-value chain R&D partnerships. To give an example, it has worked closely with its paperboard suppliers Stora Enso to produce a more sustainable carton made without bleaching chemicals.
"The resulting Natural Brown Board has a significantly smaller carbon footprint and uses fewer wood fibres, since unbleached fibres are naturally stronger," says Patrick. "The carton also has an appealing, rustic look that signals its sustainability to the consumer. This innovation is incredibly popular: in 2021 we surpassed one billion units, with 20% of the milk cartons we sold in Western Europe being made with Natural Brown Board."
Filling solutions for improved efficiency
Alongside the cartons themselves, Elopak offers a range of filling machines for aseptic, fresh and non-food applications to help its customers improve the overall efficiency and sustainability of their operations. The filling machines come with a variety of production capacities to fill a wide range of carton sizes and shapes. Each machine features a unique modular design for 'exceptional flexibility' in installation, operation and maintenance. In addition, machines are adapted and certified to meet different standards around the globe.
Furthermore, says Patrick, "State-of-the-art top and bottom sealing ensures reliable protection of the filled product. Reliability also comes from tested and validated combinations of closures, blanks and machine forming and one single point of contact. Different machine capacity options are available to meet customer needs with a low waste rate for lean and sustainable operations. The machines also have a relatively small footprint, without stand-alone components for efficient use of floor space."
One of the latest introductions to this range is the Pure-Fill™ aseptic filling machine platform, which is a 'winning combination' when combined with the Pure-Pak® eSense carton. According to Patrick, "The Pure-Fill™ platform offers major advantages in marketing more sustainable carton packaging solutions and its revolutionary design is introducing eco-friendly ways to lower energy and water consumption.
This year, Patrick tells us Elopak will be also introducing a new generation filling machine for ESL (Extended Shelf Life) products, an optimal solution for products with shelf life of 60 days.
"The filling machine delivers high precision for impeccable carton integrity and efficient switch between products, reducing food waste. With the improved hygienic filling and sealing chambers with automated cleaning, the machine is exceeding hygiene expectations, and secures that the food is kept safe and fresh until it reaches the consumer."
The aim of this solution is to help customers look at sustainability from both a packaging and a technology point of view – thus enabling them to take a more holistic approach to production.

'A complete solution'
But Elopak also recognizes that in order for the above-mentioned 'plastic to carton conversion' to be successful it is not enough to simply offer the right fibre-based products or filling equipment – the two must be tied together to form a complete solution. As a result, it has also adapted its offering to include comprehensive after-market assistance and technical services to support its clients in their shift from plastic cartons. It provides a full-service portfolio which covers the entire customer journey with frequent touch points. These services include technical planning, machine connectivity, upgrades, retrofits and optimization services, as well as maintenance and customer staff trainings.
"Our full-scale service solutions ensure that our customers get production efficiency, food safety and predictability of costs," says Patrick. "Our 200+ highly skilled, technical and maintenance engineers have the expertise and capability to design, install and maintain complete packaging solutions running to the highest operational excellence standards. Our decentralized structure as well as the expertise of our engineers provides our customers with the highest service quality and highest efficiency."
How Elopak leads the way in sustainability
Of course, when it comes to sustainability, it's not all about the product and service portfolio – it's also vital for each individual company to optimize their internal processes. Elopak itself has strong environmental principles which are manifest across its operations; the results of this can be clearly seen in its annual Sustainability Reports.
"For Elopak, sustainability isn't something we do – it's who we are," said Thomas Körmendi, Elopak CEO. "We were one of the first companies to set net zero targets approved by the SBTi in 2022. It's also why we were the first company to offer CarbonNeutral® packaging for beverages and liquid food in 2016."
In addition, since 2016, Elopak has sourced 100% of its electricity from renewable resources – part of its plan to become a net-zero company by 2050. In 2022 it reduced its direct, scope 1 and 2 greenhouse gas emissions by 20% compared to the 2020 baseline, and also reduced its value chain emissions by 7% in the same time period. It also sources its wood fibres from sustainably managed forests, purchases its electricity from renewable sources and works with governments and local authorities to drive up beverage carton recycling rates.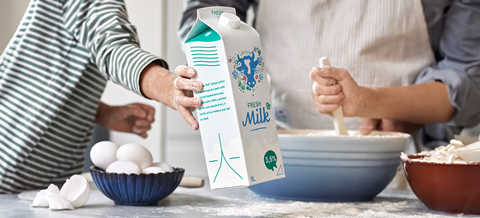 "The first step to solving any problem is accurately identifying it," says Patrick. "That's why Elopak has been publishing independently verified environmental impact assessments since 2008. In 2021 we were awarded a platinum rating by EcoVadis, the world's largest and most trusted provider of business sustainability ratings."
In future, it hopes that more and more companies will follow suit.
"We encourage other companies to publish similar climate reporting and to work with independent organizations to assess their impact."
This strong, industry-leading stance on sustainability is not a new development for Elopak – in fact, this year it celebrates 15 years of 'structured sustainability work' – and it is never a task that can be considered 'complete'. In the years to come it will continue to build on these solid foundations and work to help FMCGs reduce their plastic use and move towards cartons.