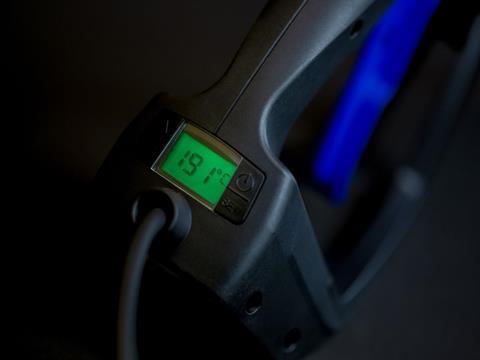 With adhesive applications carried out by hand, it is not always easy to make the bonding process safe and efficient. The Germany-based adhesive specialist Bühnen offers a range of solutions that optimize manual hot melt applications, for example in the bonding of cardboard boxes and in the production of displays.
The company recently launched two new hot melt glue guns incorporating innovative technology: the HB 240 and HB 250. The special feature of the two new devices for the manual application of hot melt sticks is a patented "inner life", developed in Germany, by which the trigger pull forces are reduced by at least 30%. This leads to fatigue-free work, thus also increasing the motivation of employees, for example in the production of displays. An additional asset is the feature that the trigger distance to the handle can be adjusted to different hand sizes. "In combination with the high melting capacity, the mechanical stroke limitation, and an extremely stable temperature control with status indicator, high productivity and process reliability are achieved with manual gluing", says Christoph Zunder, Head of Product Management at Bühnen. The HB 250, the most powerful device in its class, offers an extremely precise temperature regulation and, with a capacity of up to 400W, enables the processing of 12mm hot melt sticks at up to 230°C.
On stand 2-306 at the Fachpack exhibition, the trade fair team will be advising in detail on bonding with hot melts in the packaging industry – not only with regard to manual application. Visitors can experience the operation of the new hot melt guns, as well as a hot melt bulk tank system type HB 5010 live on site.