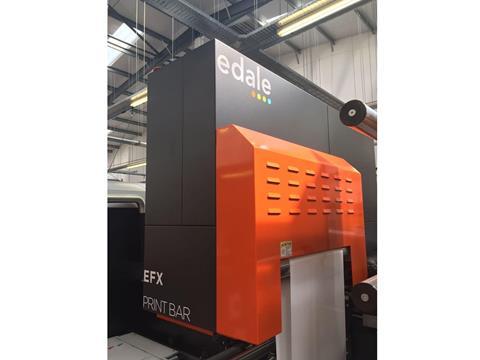 At Label Expo 2017, Edale showcased the new EFX Print Bar, a digital solution for added value embellishment of labels and packaging.
Using the EFX Print Bar offers 4 different digital embellishment solutions being: EFX DF (Digital foil), EFX DW (Digital white), EFX HB (High build Varnish and EFX PR(Digital peal and read). The EFX Print Bar can be part of a total Edale solution or retrofitted to any existing web press up to 560mm wide.
EFX DF is a digital foils and varnish solution that produces highly detailed and tactile foil effects and achieves results not yet seen with conventional cold foiling.
EFX DW is a digital alternative to traditional opaque white screen printing. Matching both tactile effect and opacity, the EFX DW has the added benefit of eliminating the need to produce or replace costly rotary screens.
EFX HB is a High Build Varnish System a digital alternative to traditional screen print embellishment for printing a range of textured effects on labels and folding cartons. Such high-build, textured/tactile effects can be used to significantly enhance the shelf appeal of products and ensure that they stand out when on display. Combining the EFX HB Varnish system with Edale's foiling system expands the capability to produce Digi - Foil.
EFX PR is a digital solution for the manufacture of peel and reveal labels. The EFX PR can print black or grey text directly on to the adhesive, thus eliminating the need for flexo plates. Digitalising the peel and reveal process significantly reduces setup times and enables variable data to be included with the booklet.
Lee Deyes Technical Specialist Hybrid Print for Edale, "following extensive market trials we are excited to launch a new range of digital embellishment solutions to the Labels and Packaging industry. This digital embellishment technology will reduce set up times and because they are digital they can print variable data so every image can be unique. I am confident with our solutions and with the imagination of our customers this will take label and packaging enhancements to an unsurpassed level."
More info: