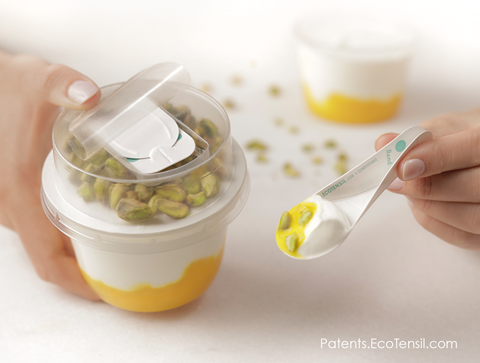 In our latest Innovation Spotlight, we get a close-up look at California-based EcoTensil and the European launch of its new AquaDot© range of plastic-free paperboard cutlery for packaging.
In advance of European legislation banning single-use plastic items such as cutlery, plates and straws by July 2021, EcoTensil has introduced its revolutionary new AquaDot range of plastic-free, extra sturdy, folding paperboard cutlery.
EcoTensil's patented and award-winning paperboard utensils are well known and loved in North America. Since 2010, the company has sold hundreds of millions of units globally, including to some of Europe's largest food manufacturers and retailers. European suppliers of food services and food and packaging manufacturers are quickly embracing EcoTensil's plastic-free AquaDot folding EcoSpoon® as a ready replacement for plastic, partly because it works seamlessly with many existing packages and processes and has a more positive impact on the taste of food than wooden cutlery.
"EcoTensil products have always set the standard for the greenest utensils available, and now we are excited to take that to the next level with our new, longer-lasting AquaDot range. This line is an easy, versatile, and crowd-pleasing replacement for plastic utensils on just about any food package," says EcoTensil founder and CEO, Peggy Cross. "The work Europe is doing to reduce single-use plastic sets a great example for the world, and EcoTensil is very pleased to support companies in meeting their plastic reduction goals with our wonderfully simple folding paper 'multi-tensils'."
A pleasing sensory experience
The paperboard used to make EcoTensil AquaDot and GreenDot lines is similar to the material used to make coffee cups, but without any plastic. With one simple "bend to touch dots™" fold, the compact EcoTensil becomes a sturdy scoop.
"We have spent the last decade perfecting the silky mouthfeel, smooth edges, structural strength and overall pleasing nature of all our utensils," says Peggy Cross. "Our customers love them – they have worked hard to perfect the flavours and textures of their foods, but the texture of wooden utensils can negatively impact the taste experience of their products. EcoTensil offers a terrific, smooth alternative."
Sustainable and practical
EcoTensil's AquaDot range of multi-functional utensils is plastic-free, recyclable and compostable, and is made from certified sustainably forested material. EcoTensil cutlery also uses 55% to 80% less material than most other single-use cutlery made from plastic, bio-plastic or wood.
Drawing on its decades of packaging expertise, EcoTensil supplies its utensils formatted ready to be easily fitted into many customers' existing packaging, wrapped, or customised as needed. Unlike wooden cutlery, EcoTensil cutlery for packaging is available folded, so they can directly replace folded plastic utensils on existing packs, potentially saving re-tooling and equipment costs.
As brand owners and suppliers seek to remove single-use plastics, while enhancing the consumer experience, EcoTensil's AquaDot range of paperboard cutlery delivers on many levels from a more pleasing taste experience and manufacturing practicality, to environmental sustainability.
For further information visit www.ecotensil.eu
This content was sponsored by EcoTensil.