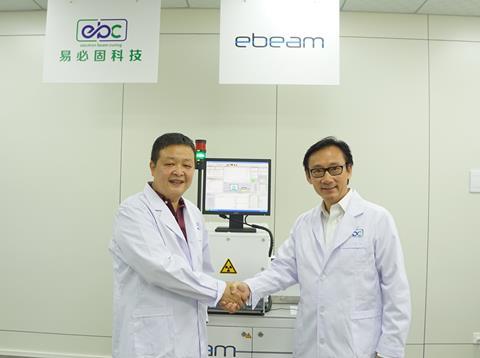 "Alex and his team at EBC have over twenty years' experience in curing technologies between them. The fact that they have set up their company to be entirely focused on developing ebeam curing solutions for the China market, as opposed to UV or heat technologies, is a testament to the undoubted business, energy efficiency and environmental benefits of ebeam," says Steve Yue, Business Development and Sales Manager of ebeam China. "Our EBLab solution provides everything required to perform trials in a safe, reliable and flexible way. With its help, EBC will be able to rapidly develop a variety of applications and products before constructing pilot lines for presenting solutions to prospective customers. We are looking forward to working closely with EBC on its journey to revolutionize the curing industry in China."
Each EBLab features a sealed ebeam Lamp that allow for a maximum beam energy of 200 keV and transport speeds of 3–30 m/min, allowing doses of up to 450 kGy in a single pass. Trial samples may be as large as an A4 letter (216 mm ×279 mm) and up to 50 mm thick. With nitrogen inerting, the oxygen concentration can be as low as 50 ppm allowing researchers the freedom to work with oxygen-sensitive chemistries.
EBLabs are a key element of ebeam Technologies' Access ebeam programme, which aims to make electron beaming technology accessible to all. Along with expert teams on hand to aid in the exploration of new industrial applications, EBLabs are present in the company's Ateliers and Pilot Lines, located around the world.
More info: