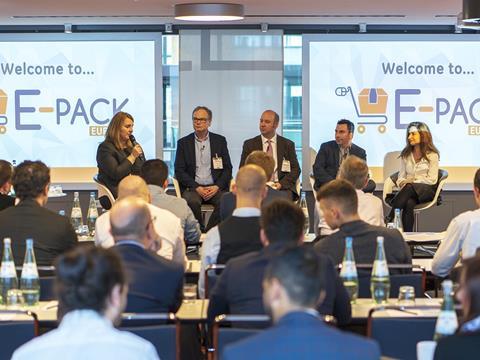 Smithers has recently unveiled the programme for the upcoming E-PACK Europe conference, taking place in Amsterdam from 21-23 April 2020. The European event explores the full landscape of the fast-growing packaging for e-commerce market. An impressive line-up of industry-leading brands and retailers, trailblazing startups and some of the biggest names in packaging will share how they are pushing the boundaries to create more sustainable and innovative solutions.
The E-PACK conference launched its first European edition last year and welcomed over 200 innovators and thought leaders from across the global supply chain. The event has provided a much-needed platform for discussion when it comes to the technical and operational challenges faced by those involved in the fast-growing e-commerce packaging industry.
Addressing the need for companies to adapt and evolve packaging that meets all needs of the market, this year's agenda will focus heavily on innovation and sustainability at every level of the value chain, from packaging design and technology, to materials, distribution and delivery networks.
The two-day conference will kick off with an update on global market & consumer trends and regulations, with insights from logistics giant, DHL, and senior representatives from Google and Smurfit Kappa who will explore the importance of the online customer experience and potential implications for packaging. Internationally renowned brand owners and retailers including Mars Wrigley, H&M, Reckitt Benckiser, Barilla and Perfetti Van Melle will then share their collective insights and personal case studies exploring sustainable e-commerce packaging design.
Sessions focusing on new technologies, material innovations and state-of-the-art packaging solutions round out the first day of the conference, with further insights from leaders in packaging such as Tetra Pak, Amcor Group and Stora Enso, as well as online eyewear company, Ace & Tate and beauty juggernaut, Estee Lauder.
European fashion and lifestyle e-commerce retailer, Zalando, will provide the opening keynote for day two, in a session that will take a closer look at the initiatives driving sustainability across the e-commerce supply chain. This will accompany case studies from the European Outdoor Group, Repack and Loop. Multinational beauty company, Coty will then explore e-commerce as an additional sales channel in cosmetics, alongside major American delivery company, UPS, who will present on the next evolution of e-commerce delivery networks and packaging.
The conference will conclude with a series of 10-minute presentations showcasing new and innovative solutions from upcoming startups, including Finnish company Paptic. In addition to a well-rounded programme, delegates can take advantage of eight hours of dedicated networking time, including an exclusive drinks reception on the evening of 22 April.
Tickets for the E-PACK conference start at €1,049 for an early bird ticket, with prices increasing in the lead-up to the event. Packaging Europe readers can save 10% off by using discount code EPACK20PE.