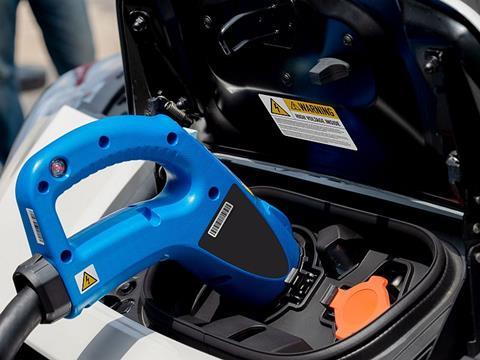 Labelstock manufacturer VPF GmbH & Co.KG is introducing a new PET high-performance adhesive bond for durable outdoor markings.
The material is 55my strong, white-matte, furnished with a special top coat finishing and especially suitable for subsequent printing using thermal transfer processes. In various tests, the adhesive bond proved to be extremely resistant against UV radiation and chemicals as well as during fluctuations in temperature and humidity.
The PET material withstood UV radiation of more than 5,000 hours in accordance with DIN EN ISO 4892-3 as well as temperature ranges from -40°C to 160°C without any problems. Furthermore, various weathering tests to simulate permanent fluctuations in temperature and humidity were successfully passed. As a result, the material is predestined for all permanent outdoor markings.
In addition to subsequent thermal transfer printing, it can also be used in all conventional printing processes. The thermal transfer ribbons Ricoh B110CU and 3M 92904 display highest degrees of resistance against ethanol, fuel, diesel, brake liquid, motor oil and acetone.
Perfectly suitable for demanding logistics solutionsThe PET material is well-suited for permanent special labels in combination with the aggressive UV acrylate adhesive HM716UV and with adhesive application weights ranging from 19 to 35g/sqm. Areas of application include challenging solutions for type plates, electronic components and logistics solutions, for example labeling pallet cages and stockyards. In addition to its outstanding resistance against UV radiation, chemicals, temperature and humidity, the acrylate adhesive also features high adhesive power. It is significantly higher than that of conventional UV acrylate adhesives for initial adhesion and final adhesive power (FTM1 after 24 hours on glass at 25g coating weight > 28N/25mm).