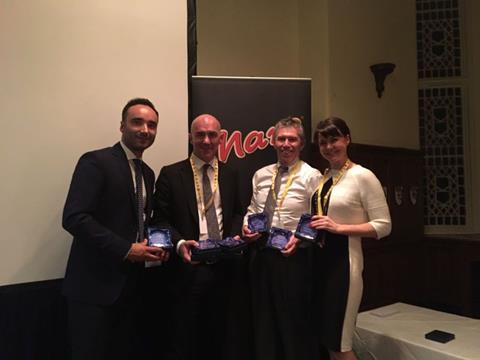 It was a tour de force night for DS Smith Packaging at the Mars Chocolate QFI Awards dinner as DS Smith took home an unprecedented six awards including, once again, the Site of Excellence Award in the Corrugated category for DS Smith Noerdlingen, Germany.
Four of the other awards were:
Perfect Performance Award DS Smith Fulda, Germany
Perfect Performance Award DS Smith Kielce, Poland
Perfect Performance Award DS Smith Rochechouart, France
Perfect Performance Award DS Smith Toury, France
This is the 8th year running that DS Smith has won the top award in the Corrugated category and the 7th time for DS Smith Noerdlingen. In 2016 the plant supplied packs to Mars Chocolate sites in Germany, France and Netherlands with outstanding quality performance - a testament not only to great quality, but astonishing consistency.
"It is a real honour to receive these awards on behalf of the men and women who strive for perfection every day in DS Smith plants. I think of the dedication, hard work and attention to detail that has delivered this amazingly consistent performance over the past years," said Frank McCusker Mars Account Director at DS Smith. "We in DS Smith Packaging are passionate about both quality and innovation and it is wonderfully satisfying to receive the appreciation and recognition from our valued customer."
The awards were presented to Stefano Rossi, DS Smith Packaging CEO, Adrienne Liebenberg, DS Smith Packaging Sales and Marketing Director, Krzysztof Mroczek and Frank McCusker by Corinne Powell, Commercial Director of Mars Chocolate Europe, UK & Eurasia.
The final award, for Innovative Design, is in many ways the most exciting as it was awarded this year for the first time. The award recognizes a range of initiatives and improvements where DS Smith used innovative techniques, materials and or designs to bring a special piece of packaging or display to market.
"Innovation is a key part of the value we bring to the table for our customers," said Stefano Rossi, DS Smith Packaging CEO. "We are determined to create value with our customers through collaboration and innovation so that they can benefit from lower costs, more sales and managed risk."
More info: