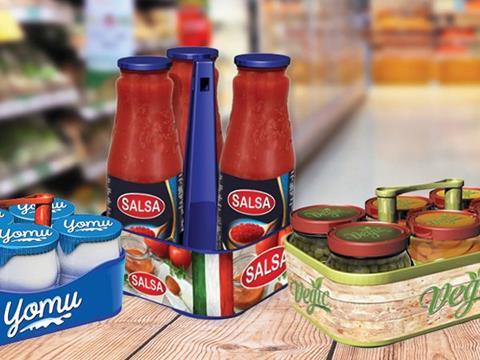 As we reported earlier this year, DS Smith has launched a new line of packaging options known as Loop Ready Packaging (LRP), currently being showcased at FachPack 2019. LRPs are robust, re-usable, returnable, and fully recyclable packaging options that deliver incredible benefits for brands, retailers, consumers and the planet.
DS Smith says Loop Ready Packaging is the next logical evolution from Returnable & Reusable Packaging (RRP) and Shelf Ready Packaging (SRP). It delivers a zero-waste option for many of retailers' most popular products while maintaining affordability, improving convenience and closing the loop to ensure a circular life cycle. Initial products will focus on jars of non-perishables (such as vegetables, sauces and more) but the technology could be rolled out across many more product lines in the future.
Furthermore, with LRP retailers can drastically cut the mounds of plastic and cardboard waste that need to be disposed of currently and keeping shelves full has never been easier thanks to the easily handled, stackable containers.
In addition, DS Smith Plastics Injection Moulded Product will be featuring its Stackabox Hybrid, a reusable, collapsible dispensing container for Pet preforms and Caps & Closures.
The DS Smith Plastics, Extruded Products segment will be partnering up and featuring their AkyPak® line of returnable and reusable containers.
Visit DS Smith Plastics to learn more about Loop Ready Packaging at FachPack 2019, Stand 9-205