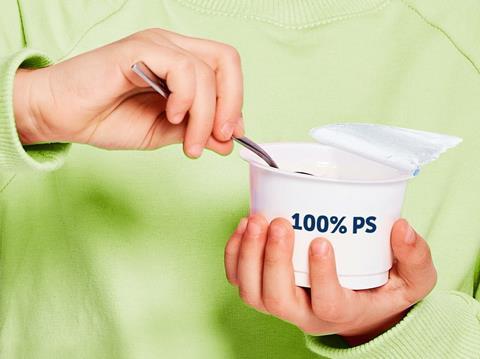 Having established its full circularity credentials, the styrenics industry is now committed to implementing the principles of sustainable design in a practical and actionable way. We caught up with Jens Kathmann, Secretary General of Styrenics Circular Solutions (SCS), to find out what this means for the value chain.
Back in June this year, Packaging Europe hosted a webinar in collaboration with SCS, in which the latter laid out the favourable results of a recent life cycle analysis (LCA). This confirmed the low carbon footprint of recycled polystyrene (PS) with emissions savings of 80% for food contact mechanical recycling and 75% for dissolution and depolymerization.
Now it's time to look at how these things can work in practice – something we will learn about in the follow-up to this webinar, taking place on 30 November 2021 at 10:00am CET. Among other things it will address: how design for recycling can help polystyrene fulfil its circularity potential; the role the RecyClass guidelines will play within this; and how close we are to mono-material PS solutions for food contact.
A proven entity
We have often heard circular styrenics described as a 'drop-in' solution for converters and brand owners. Why is this, and why is it such an important point for these members of the supply chain?
"To say we are a drop-in solution is not only a bold statement but a matter of fact," says Jens Kathmann. "Recycled PS offers equal quality to virgin for all end uses, including food packaging. Purity levels of 99+% are achieved whichever recycling technology – closed loop mechanical recycling dissolution or depolymerization – is being used. The material properties of the PS recyclate make it perfectly fit to become a yoghurt pot again. This means converters don't have to change any of their equipment and brand owners can expect the same colour and design choices they would have with virgin."
A key element of this is of course the RecyClass design guidelines and the role these will play in establishing the circular PS stream. These guidelines can support brand owners, retailers and converters in maximizing the efficiency of sorting and recycling of their products. We will be hearing more on this during the event, but for now it suffices to say that SCS have developed specific RecyClass criteria for closed loop food contact recycling of yoghurt pots. This means it 'gathers the preferred design features, that maximize the return of the recyclate into dairy applications'.
Next steps
Despite this, there is of course much more work to be done, as Jens tells us: "We are currently investing in feedstock mobilization for our circular PS, which is crucial to gaining the confidence of the value chain. We need a steady supply of feedstock and the right sorting facilities in place and so we are working on getting the message to waste managers, EPR schemes and so on that it makes perfect sense to collect PS, EPS and XPS because there will be a strong demand for these fractions."
Then there is food contact: for any packaging material, as most of us know, it is vital to achieve EU approval for this in order to claim full circularity. SCS have already filed their first application for an EFSA opinion for use as food contact material, based upon highly successful challenge tests. While a positive opinion and further applications are expected, according to Jens SCS members already have 'working solutions in hand ' with the so-called ABA structure. "Essentially, we are already there in practical terms and our emphasis is now on further increasing the market pull."
Those who join us at the event will be able to learn more about how design for recycling can contribute to further optimize the circularity of PS, the current status of food contact for PS – and when we can expect to see this become a market reality.
The takeaways
Finally, we asked Jens to give us a summary of what listeners can expect to take home from this event.
"The previous event successfully delivered the message that recycled PS has it all when it comes to circularity, from sortability, closed loop food contact recycling via multiple recycling technologies to an LCA confirmed favourable environmental footprint and everything else besides. So this session now is about boosting the existing achievements with smart design for recycling choices. In particular, we would like to empower recyclers, converters, retailers and brand owners and last but not least investors with the confidence to work in this direction and adopt the PS solutions we are offering."
In short, now that SCS has established the role PS can play in the circular economy it is very much time to take action: to move towards implementation. Join us on Tuesday 30th to find out how you can make PS part of your company's own packaging circularity journey.