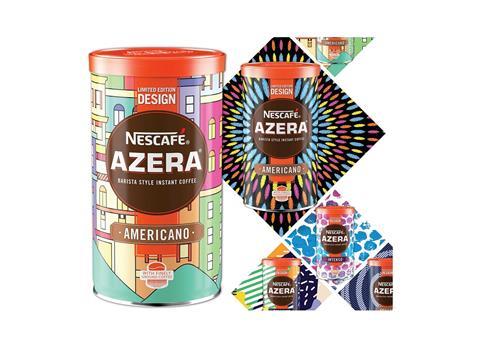 For the third consecutive year, Nestlé, maker of the NESCAFÉ® AZERA coffee brand, has teamed up with CROWN Aerosols & Specialty Packaging Europe, a business unit of Crown Holdings, Inc., on the launch of a series of limited-edition tins.
Created in collaboration with graphic design students from the University for the Creative Arts (UCA), UK, who were asked to focus on the "positivity" theme, each tin uniquely depicts the feel-good vibes associated with the premium instant coffee brand.
There are nine winning designs for the brand's unique ranges of instant coffee, with the tenth and eleventh design focused on Nestlé Professional's coffee range, for which the premium look and feel given by metal packaging proved to be a success.Bold hues of red, blue, green, yellow and orange depict original artwork of coffee beans, feathers, blue skies, abstract motifs and city landscapes that creatively express the students' interpretation of the coffee experience and of the urban culture around the world.
Crown worked in close partnership with Nestlé throughout the entire manufacturing process. The company's printing process complements the students' vivid graphics, making the containers immediately recognisable on retail shelves and sparking an instant connection with coffee lovers.
Metal is the go-to material for designers, as it is regarded as the ideal canvas for creative freedom, along with its notable sustainability credentials. Since metal can be infinitely recycled with no degradation in quality or performance, the need for virgin material is significantly reduced. In addition, the exquisite collectable applications become great keepsakes for consumers to use and enjoy long after the coffee inside has been savoured.
The new tins hit retail shelves across the U.K. in July 2017.
More info: