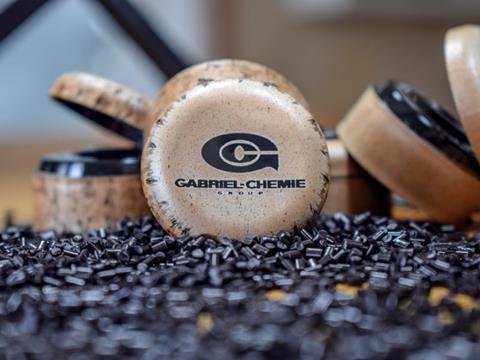 Consumers today value creative packaging design. Particularly in the world of the cosmetics industry and also in food packaging, not only optical characteristics but also haptic and functional properties play a big role - packaging for all the senses.
An imaginative selection of materials, extraordinary surface designs and intelligent additives in the plastic can influence the successful launch of a product and thus also the acceptance by the end user. For example, tubes, bottles, jars, dispenser systems, caps, closures and many other objects can be refined with laser technology. The Gabriel-Chemie Group offers full service for lasermarking: from the project idea to its realisation.
A laser additive masterbatch enables the contact-free, permanent marking, labelling and decoration of plastic parts without using any printing ink or solvents. A marking can be made on soft, coarse, stepped and curved surfaces and is abrasion-resistant, resistant to chemicals and lightfast. The use of laser additive masterbatch makes it possible to create customised designs and personalised markings and is perfectly suited to complex and rapidly changing layouts. The Gabriel-Chemie Group has been involved in this technology since laser marking on plastics was first introduced.
"Laser marking on plastics enables unimaginable design options for current trends such as customisation and personalisation of innovative products. Computer-controlled, creative designs can be implemented quickly and flexibly, which particularly appeals to modern customers at the PoS and motivates them to buy. In cooperation with our laser marking partner beLaser GmbH we have already realised wonderful new product ideas.", says Ulf Trabert, Corporate Brand Manager.
Functional properties
Whether for barcodes, safety seals, interior and exterior automotive accessories, security tags or marking of medical products and laboratory equipment - the application-fields of contactless marking of plastic parts are diverse. Product safety by lasting and forgery-proof labellings is an additional advantage, entailed by laser marking.
Advantages and diversity in processing
The product portfolio consists of laser additives and combination masterbatches – colour & additive – which are suitable for all thermoplastics. The masterbatch is suitable for processing in injection moulding, hollow body injection moulding and for the extrusion of thick-walled products. Gabriel-Chemie also provides masterbatches for film extrusion upon request.
Dr. Stefan Marschnigg, Corporate R & D Manager and project leader Laser: "With this full-service concept for individual development, we are taking off the market. Uniqueness and the highest demands on quality are our maxim!"
Gabriel-Chemie continues to build on this close cooperation with beLaser®. With more than 25 years of experience, the company is a valuable partner and specialist for laser engraving, laser marking and product labelling of different materials.