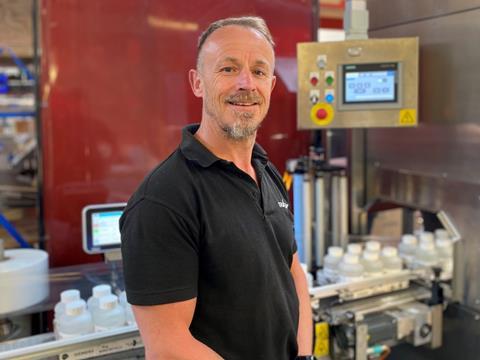 Secondary packaging company TrakRap believes it has solved one of the biggest barriers to fully recyclable secondary packaging for the food and drink sector with the launch of TrakCoder, a low-carbon alternative to ITF labels.
TrakRap says that at present, the LLDPE film (Linear Low-Density Polyethylene film) used in both cold wrap and shrink wrap which has a paper ITP barcode label fixed to it becomes immediately 'contaminated' and cannot be easily recycled.
Most recycling plants require different substrates to be separated, reportedly leading to almost half (46%) of film with paper ITF Labels being sent to landfill. With around 100 million paper labels printed every year, it is estimated this contributes to almost 600,000 tonnes of LLDPE film going to landfill per year.
Trakrap, which recently won a World Food Innovation award for its Trakrap packaging system, has now launched the TrakCoder – an ITF label printed onto the same substrate (LLDPE) as the secondary pack.
The printer uses a specialist ink that breaks away during the recycling process, which the company says makes it affordable and easy to recycle the full secondary pack for the first time.
To create the TrakCoder solution, Trakrap has integrated a Thermal Transfer Overprinter (TTO) into its packaging system, which uses software and is capable of checking its own print. The printer allows an ITF to be printed on the same substrate as the main pack, removing any chance of contamination.
The Industry 4.0-enabled TrakRap System eliminates the use of heat from the packaging process using an ultra-thin stretch film to 'cold wrap' products instead, reducing energy usage by as much as 90% and plastic usage and greenhouse gas emissions by as much as 70%.
Trakrap believes that combined with its new TrakCoder innovation, manufacturers can expect those savings to be even bigger, with an additional 30% cost saving on labelling.
Martin Leeming, CEO at Trakrap, says: "We are hugely excited about this. ITP labels are necessary, but their use has a huge impact on the recyclability of secondary packaging. They are also costly and there are millions of them printed every year.
"Using a world-leading TTO capable of delivering fast print speeds, we have created a solution which will offer manufacturers and retailers an alternative to traditional ITP labels which will significantly reduce their CO2 emissions and is a fraction of the cost of paper adhesive labels."