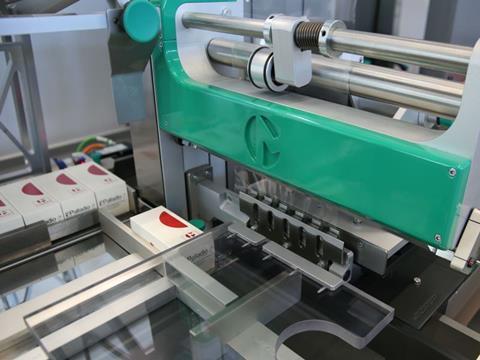 Marchesini is getting ready for Achema and two other important national events: Cosmopack, in Bologna from March 15th to 18th and Ipack Ima, in Milan from May 29th to June 1st.
At Cosmopack, the Marchesini Group will have a spacious booth (hall 20, booth D53-54) where an innovative end-of-line jar packaging system and 5 stand-alone machines by Dumek will be showcased. A team of experts will welcome visitors to demonstrate the machines on show and to illustrate the potentials of the Group's new cosmetic division, situated near the Headquarters in Pianoro, which will also host DUMEK machines. This business unit is already up and running and will help to make the Group even more competitive in a constantly growing marketplace and has become one of the Group's key strategies.
Machines exhibited
The line exhibited will include two solutions that have been recently put on the market: MAV 60, an automatic alternated-motion machine, on which the carton is conveyed upright and Farplus C, an automatic wrapper, available in both the standard version with side guiding belts and in the optimised version to package cosmetics with guiding plates to allow for the dot-seal system.
Compared with the previous version, MAV 60 has a robotic product infeed and a system that stands the carton upright. These new features improve speed and ergonomics even further. The automatic infeed also ensures precision and delicacy in handling the product, putting it very carefully into the carton, thus avoiding all possible damage. It also means unusually shaped products can be handled too.
Farplus C too has a robotic product infeed and a product bypass system outside the machine to ensure non-stop production, reaching 80 packages a minute. This wrapper is indeed excellent for processing cosmetics, thanks to the variety and top quality of all the possible closure methods: from standard closure for individually packed products and grouped products, such as perfumes of all shapes and sizes, to dot seal and tear tape closure.
Farplus C and MAV 60 are connected to each other by a Robocombi, which moves the incoming box onto the infeed belt that conveys it to the end wrapping station. Once on the belt, the carton is automatically positioned and is pushed against the film, which is wrapped around it by a comb drive. This type of movement means the exact position of the carton is known so that other processes can be carried out if necessary, plus it prevents the cartons from touching it each other.
The DUMEK brand will also be represented by three turbo-emulsifiers, TURBO-MEK, with capacity of 25, 200 and 600 litres, a MELTER 120 and a homogenizer/dissolver TL 132. The TURBO-MEK vacuum turbo-emulsifiers are designed to process liquid and creamy products such as emulsions (cream and milk products), serums, oils and balms, gels and lotions; special versions of these machines can process other specific products such as make-up (mascara, foundation), hair dyes, toothpaste and mud products.
All the functions required to ensure efficient operation of the turbo-emulsifiers and to set the working parameters are managed and programmed from the control panel with software developed in-house exploiting DUMEK technologies.
DUMEK has designed the MELTER 120 to mix, distribute and store products and to aid the turbo-emulsifiers in one of the heating phases (watery or fatty). When it is equipped with a special mixing system, it can actually prepare some cosmetics that do not require the more sophisticated functions of the turbo-emulsifiers.
To conclude, the TL 132 unit dissolves and homogenizes the product (with in-line or recirculation system), which is perfect for processing cold emulsions without using vacuum. It has many strongholds among which are ease-of-use, thanks to its trolley structure, so that it can be moved around to interface it with other containers and versatility, thanks to the possibility to connect it to piping and hoppers for several other applications.
More info: