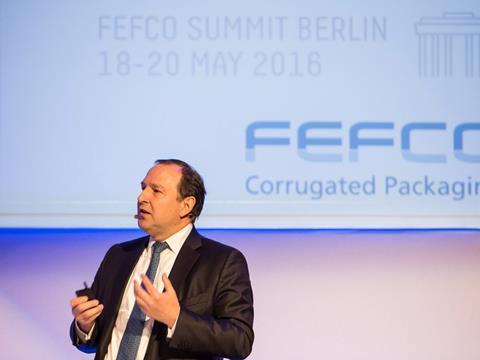 At FEFCO's annual Summit in Berlin Packaging Europe's Tim Sykes caught up with outgoing FEFCO president Roberto Villaquiran, CEO Europe at Smurfit Kappa, and his successor Jan Klingele, managing partner of Klingele Papierwerke, who shared their thoughts about the place of corrugated board in today's conversations about sustainability and its response to the challenges of a complex marketplace.
Tim Sykes:
The packaging industry is aware that corrugated is a sustainable material: renewable, recyclable and lightweight. Are there any areas where you believe there are still gains to be made in terms of environmental performance?
Roberto Villaquiran:
There is continuous improvement in the industry. Collection rates are getting higher and higher. Meanwhile, technology is improving efficiency - thereby enabling us to supply a better product containing less environmental impact. As an industry we are also looking at ways to make corrugated a true circular economy. For instance, we are examining how to reuse what has in the past been considered waste products, in particular in the area of biomass. There is a huge focus on this within the industry. In addition, the industry supports many FMCG companies and retailers to help meet their environmental targets.
However, a big problem we face is the misunderstanding within the general public, which associates the paper packaging industry with killing trees, not planting them. As an industry, paper-based packaging is way ahead of many others in terms of sustainability but we still have work to do in relation to perceptions.
TS:
Are there any concrete ways that the EU's Circular Economy package will impact on the corrugated industry?RV: It's very positive that the EU understands how advanced our industry is and how much we are contributing to the Circular Economy. When you look at comparative recycling rates, other industries are significantly behind us and the EU is pushing them to make the progress that our industry has achieved.
Jan Klingele:
Corrugated is one hundred per cent prepared for the Circular Economy. In the short term, I think the impact of the EU Initiative will only be positive. What we really want is a level playing field: to see the same stringent requirements made on plastics and other materials as regulations place on corrugated. We are being pushed for recycling rates of 90 or 95 per cent, whereas for some packaging materials rates are still relatively low.
TS:
What are the most exciting areas of innovation in corrugated production that are increasingly the sustainability of corrugated at the moment?
RV:
Speaking from the point of view of Smurfit Kappa, I would say that the world of corrugated has been relatively traditional in its attitudes until recently. Now we are learning from other industries, for example construction building, about how to make structures with less material. This involves using different flutes and papers to improve performance.
JK:
Aside from the lightweighting trend, the entire corrugated and paper production process is becoming cleaner and more energy efficient. In fact, energy efficient machinery is an area the industry neglected for some time and is in the process of addressing now. There are also long-term projects looking beyond the horizon at the next generation of paper-making machines.
RV:
It would be great if the EU used funds to help us accelerate R&D in these areas, rather than using them to increase capacities, thereby creating jobs in some places and in the process taking them away in others. Ill-judged subsidies are bad for the industry, and that needs to stop.
TS:
Another area where manufacturers are looking to drive up efficiencies is automating, installing smart machinery and embracing the spirit of Industry 4.0. How far down this road is corrugated?
JK:
Honestly, I think we as a branch are pretty good at Industry 3.0! We have a good level of automation but we are not yet in a cloud-based infrastructure with independent machines communicating with each other. More importantly, our clients are not yet in that position. This is something we are talking about a great deal, but have not realised yet.
RV:
…Moreover, the technology is not quite there yet with the tolerances we require. I would say we are still five to ten years from achieving Industry 4.0. There is a collective responsibility to realise this. We need to pull and the technology providers need to push - but we certainly need to get organised.
TS:
I'd like to ask you about the key market trends in corrugated at the moment. We are witnessing a number of interesting developments in retail, from the rise of internet shopping to the emergence in some markets of new retail formats.
RV:
Of course, every country has its local conditions and different formats. The task is to make complexity simple, so our job is to help our FMCG customers adapt to deal with these complexities, whether they are driven by e-commerce, smaller shop formats or discount retailers. They can't change their end-of-lines, but we can help them thanks to the adaptability of our product.
JK:
…In terms of how this translate into demand, the overall trends of recent years are still intact. Across Europe there is demand for more colours, smaller flutes, lighter papers, smaller packages, more whites.
TS:
A theme that was discussed here at the Summit was the pressure on margins, as corrugated prices are stable while paper prices are rising. How do you as an industry defend yourself against this challenge?
RV:
As long as we are seen as a commodity for transit, there is always going to be price pressure. Our responsibility is to change that conversation to the true value of our product: that corrugated is a partner that delivers value. We need to be convinced that our product truly does this. This is a very capital intensive industry. If our customers want to have us as their preferred medium, we need to have a return of capital that allows us to continue to invest.