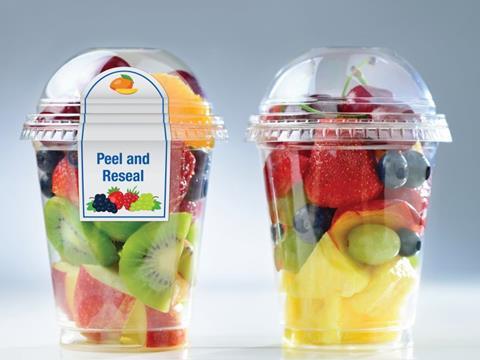 At this year's Labelexpo Europe, H.B. Fuller will showcase its full range of washable and removable or repositionable water-based and hot melt pressure sensitive adhesives (PSA) that maintain brand integrity, whilst enabling ease-of-use for the label user and complying with industry quality standards.
With a recent investment in its coating capabilities in Europe, H.B. Fuller is demonstrating its commitment to create differentiation and deliver high-end support to label, graphics and tape manufacturers, earlier and upstream in their products' value chain.
With the global PSA market expected to grow 6.3 percent a year and reach $8.6 billion by 2020, H.B. Fuller is responding actively to global demand for permanent or removable solutions. The company's extensive pressure sensitive adhesive portfolio contains water-based, hot melt and solvented acrylic or rubber compounded PS formulations, for production of a wide variety of labels, graphics and tape products. Its capabilities include the creation of unique compounded adhesives using in-house polymerisation, which deliver enhanced performance for specific applications.
Lifting label performance and functionality with PSA
Despite representing a small part of the end product, labels play a crucial role in delivering products with the appeal and functionality demanded by consumers, while ensuring adherence to an increasing number of compliance and safety regulations, particularly in the food and pharmaceutical industries. "Label converters need to adapt to today's fast-changing socio-economic, demographic and lifestyle factors and respond promptly with more sustainable formats and quality-assurance features, such as ready-to-go food pouches, peel and reseal tissue or dry food packs or returnable bottles.", explains Judith Liddle, marketing manager, converting solutions, EIMEA.
Water-based Fulltak™ SE 8301, for example, connects ideal coating, drying and conversion performance for the label stock producer with optimum ice water resistance (IWR) and excellent alkali wash-off performance for the beverage producer. Another level of versatility is brought by hot melt Lunamelt™ PHC 7194 ZP, which enables effective peel and reseal label functionality, for consumer satisfaction time and time again. The choice of product depends on requirements, such as base type, substrate, ageing resistance, ease of removal and the balance between tack, adhesion, versatility and cohesion.
Helping to protect both the brand and the environment
"At H.B. Fuller, we recognize the importance of a label's integrity in maintaining a brand's value and reputation," continues Liddle, "so we're determined to help protect our customers brands by designing specialty adhesives that keep labels firmly in place throughout the product journey – however long or challenging this might be."
In the hot melt PSA category, Swift®melt 1911 delivers superb performance on demanding surfaces and conditions, such as glass, metals, wet conditions and rough surfaces, making it ideal for glass bottle, holographic or tyre labels. For speciality and premium labels or tapes, LunameltTM HL 2838 has a wide performance spectrum and delivers superb pressure sensitive adhesive performance on difficult surfaces, such as virgin and recycled corrugated boxes in both low and high temperature conditions.
Additionally, both adhesives are delivering performance on courier envelopes, demand driven by the rapid expansion of ETailers and internet shopping. Swift®melt 1911 and LunameltTM HL 2838 are successfully providing the required strong bond to ensure packages remain secure during shipment.
H.B. Fuller's solvent-based PSAs, in turn, include a number of Swift®col products, which can be used for clear-on-clear labels, giving a fashionable and permanent 'no-label' impression.
H.B. Fuller peelable hot melt adhesive range enables a clean and easy removal of paper and plastic labels enabling consumers to easily separate and recycle the various components. Whilst their water-based range can positively impact beverage producers, enabling them to easily remove paper labels from glass bottles during the cleaning process . "Our scientists have indeed been working to deliver excellent PSA performance and enable the recycling or reutilisation of materials, thus helping to minimize the hazard footprint and optimize the product life-cycle," says Melanie Lack, business manager, tapes and labels, EIMEA
Building stronger partnerships for higher competitiveness
"We're inspired to innovate with our customers. When combined with our zero-defects approach, our teams are empowered to keep transforming the industries we serve and making businesses more efficient along the supply chain: from selection of the right adhesive, to machine troubleshooting, process optimization and end-product performance," explains Lack.
To support this commitment, H.B. Fuller is installing a new hot melt coater in September at the LEED certified Lüneburg Adhesive Academy, which will leverage the company's capacity to coat and test adhesives with customers' materials using their R&D development processes. "With our testing support, manufacturers will be able to anticipate and prove adhesive performance earlier in the production chain," concludes Lack.
Visit H.B. Fuller at Labelexpo Europe 2017, at booth 6C43, Hall 06, at Labelexpo Europe 2017, in Brussels, Belgium.
More info: