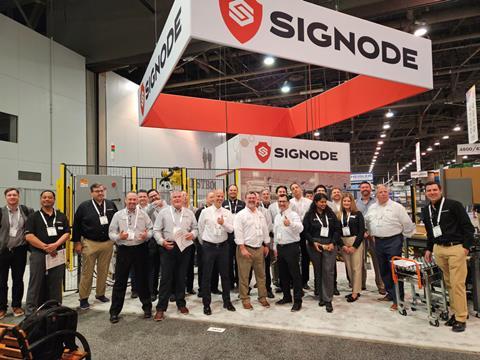 With a worldwide presence, Signode manufactures and distributes protective packaging systems designed for the application of plastic and steel strapping, as well as stretch film. We caught up with the company to get its views on key areas of innovation
Your elevator pitch: introduce and sell us your company in no more than 280 characters.
Signode is a global leader in transit packaging solutions. From advanced packaging equipment and automation solutions to post-installation service and support, customers rely on us to pack, bundle, unitize, warehouse and transport products across complex global supply chains.
Where are your company's locations? Are there any specific challenges or advantages relating to your geographical location that you could tell us about?
With over 80 manufacturing facilities across 6 continents, Signode maintains local partner relationships to deliver our network of trusted brands, including Simplimatic®, Little David®, Lachenmeier®, and Octopus®. The support of these partners along with our 100+ years of experience enable us to deliver customized, turnkey solutions to solve the unique challenges faced by customers across regions and industries.
Tell us a surprising fact about the market you work in.
A surprising fact about the manufacturing industry is that nearly 7.6 billion tons of industrial waste are produced in the United States alone each year. This fact has driven Signode to invest in producing sustainable and recyclable packaging alternatives. Not only does this help the environment, but it can also help our customers achieve their sustainability goals.
At Packaging Europe, we like to watch trends and areas of innovation as they evolve. Can you tell us something we might not be aware of that is driving technology in your sphere?
Among Signode's latest innovations is a focus on robotics and automation. Labor challenges, including higher wages, turnover, and manual inconsistencies, have prompted many manufacturers to look toward automation to fill the resulting gaps in the production line.
With advanced software and robust equipment, Signode can integrate automated packaging equipment with robotics to deliver versatile solutions for operations requiring productivity advancements over manual processes.
What would you say is the biggest common misconception that you encounter in your business?
The most common misconception we find is the belief that one must engage multiple vendors to facilitate the product journey from the warehouse to the storefront. On the contrary, Signode offers thoughtfully crafted turnkey solutions that can be customized to meet various industry demands and unique customer specifications. Companies can confidently depend on us as a partner to protect their products throughout the transportation journey while enjoying the convenience of a single point of contact for support and inquiries.
If the wider packaging industry could be transformed in some way, what kind of change would you like to see?
It would be great to see more widespread adoption of automation services in the packaging industry. If automation were to become the standard practice, we could expect to see a strong uptick in production efficiency, a substantial reduction in downtime, and a decrease in the time allocated to manual processes. Such a shift has the potential to boost productivity and create opportunities for current employees to diversify their skill sets and advance within their industry.
…and how do you envisage your company changing the industry in the coming years?
We expect the current trend of rapid fulfillment to persist, which is pressuring many manufacturers to look to automation to meet demand. Through product education, training and a robust support program, Signode aims to empower manufacturers to embrace the possibilities of automation.
By shifting the client-vendor dynamic from transactional to that of a partnership, we evolve alongside our customers' needs and challenges, and create an atmosphere of knowledge-sharing that contributes to a more efficient and interconnected manufacturing landscape.