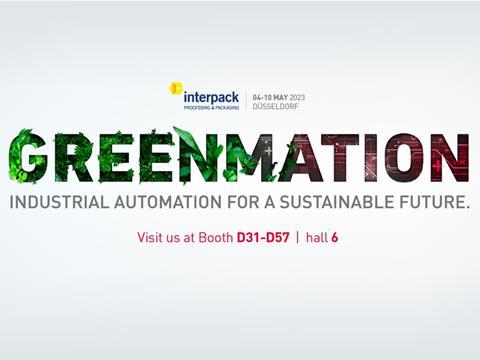 Coesia details the variety of automated, sustainability-minded solutions its companies will display at this year's interpack – from pouching machinery to integrated inline printing and pouch-in-box lines – in this edition of the Spotlight.
GREENMATION is Coesia's response to the current trend prompted by the consumer demands towards reusable and recyclable packaging solutions, whilst manufacturers face labor shortages and production cost increases. "In this complex situation, Coesia believes that the answer to this profitability-threatening challenge lies in supporting a revolution in production which is capable of combining the principles of automation and sustainability in the industries of Food & Beverage, Pharma & Personal Care, and Cross Industry Automation," says Alessandro Parimbelli, Coesia Chief Executive Officer.
The Coesia booth (D31-D57) will be structured into three areas (Food & Beverage, Pharma & Personal Care, and Cross Industry Automation) where technicians and experts will present the latest solutions presented by the Group: ACMA, Atlantic Zeiser, CITUS KALIX, EMMECI, FlexLink, G.D, GF, HAPA, NORDEN, R.A Jones, and VOLPAK.
Product launches
VOLPAK presents SM+
This innovative Horizontal Pouching platform by Volpak, a Coesia company specialized in the production of packaging lines for horizontal form-sill-seal pouches, is especially suited to support customers with very tight time-to-market needs and highly variable productions in both product and format. It is also designed to satisfy challenges driven by new distribution channels, such as e-commerce. Equipped with cutting-edge magnet-based conveyor technology, the SM+ is designed to be a truly modular solution.Versatility is guaranteed through fully automatic changeover and quick format adjustments which can manage the production of small batches of different products. The SM+ being displayed during Interpack is a pre-made pouch solution, where readymade pouches can be seen filled and sealed. Volpak has also engineered a HFFS versions of the SM+ for manufacturers wanting a more inclusive solution.
FlexLink presents BRIXX®
FlexLink, a Coesia company leader in the field of automated manufacturing and material flow solutions, presents BRIXX®, the extremely flexible concept designed to respond to the dynamic consumer trends pushing co-packing and e-commerce players to meet the spiking demand for higher differentiation and personalization possibilities. Based on advanced mobile conveyors and robots, this intelligent solution enables the automation of manual repetitive packing and co-packing processes, supporting production companies in their growing challenges to handle multiple product variations and faster changeovers. Thanks to its modular, click-and-play design and based on intuitive software, BRIXX® allows quick layout transformations to facilitate the management of seasonal peak loads with an extremely user-friendly experience.
EMMECI MC2020 DIGITAL
EMMECI, a Coesia company leader provider in the design, production and promotion of automatic machinery and packaging solutions for premium and luxury products, launches MC2020 DIGITAL, a revolutionary digital line for the production of a completely new concept of a high-quality box through a sustainable automated process. With a new optimized process aimed at cutting down material waste and water consumption, this solution uses eco-friendly materials such as paper and cardboard and is set to manage deeply embossed sheets, unleashing new possibilities in terms of design and reducing or avoiding ink usage. Contributing to the unprecedented look and feel, the selective gluing system gives the box a distinctive puffy touch. This machine produces unique and innovative packaging, guaranteeing the highest production performances, flexibility, and meeting consumers' demand for eco-friendly packaging in the luxury brand markets.
Two main integrated lines
1. INTEGRATED POUCH-IN-BOX LINE
This innovative turnkey pouching system from Coesia is engineered with multiple features to pouch, carton, and load products onto pallets effortlessly and efficiently. The line is composed of a VOLPAK SI-280 HFFS Pouching Machine, a R.A Jones Criterion CLI-100 with the new intelligent, flexible transfer system (iFTS), and a FlexLink RC12 Collaborative Robot Palletizer. The pouching and the cartoning machines both feature OptiMate and PerforMate, two of Coesia's Digital platforms, making the operator's experience with the line consistent from one machine to the next and allowing for real-time remote control over production data.
2. INLINE PRINTING FOR PHARMACEUTICAL POUCHES
This line, integrating a Hapa 382 Hybrid printer and an Enflex PH-11 sachet machine, is designed to produce fully compliant pharma pouches with an extremely agile process. Starting from a blank or standard foil reel, hybrid inline printing combines flexo and digital printing technology to ensure consistency of the fixed data and artwork. It also enables the real-time update of variable data, simplifying logistics and erasing the uncertainties tied to the pre-printed foil reel supply chain. Fully compliant with 21 CFR part 11, the line is a perfect match for pharmaceutical environments and products, with a new powder dosing system redesigned to meet high hygiene standards. Thanks to its extreme flexibility, the system allows for the management of small batches, resulting in fast delivery to the market.
Automation, Sustainability, Digital and Customer Service
Automation
Coesia supports its customers in every step of the manufacturing process, thanks to a vast portfolio of innovative automation solutions that ensure production reliability and allows to be diverted towards added-value tasks.
Sustainability
Many of the machines on display at Interpack can handle sustainable paper-based materials or mono-material plastic films, that are easier to recycle of at the end of use. Coesia Shelf of Sustainable Solutions it is in fact dedicated to all eco-sustainable packaging solutions.
Coesia Digital and Customer Service
New digital tools and services will be highlighted in the Coesia Digital and Customer Service areas of the booth. At Interpack, Coesia is launching OEE (Overall Equipment Effectiveness) consulting, a customized consultancy service aimed at increasing customer profitability - through cost reduction and increased equipment productivity.
This content was sponsored by Coesia.