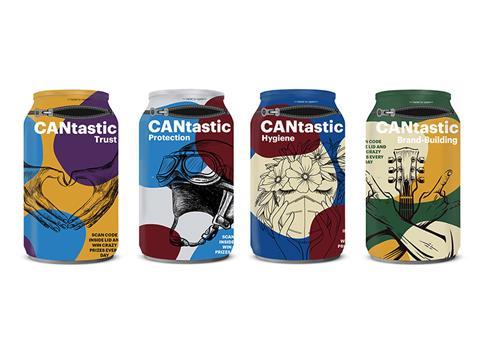 With the aim of offering maximum hygiene and marketing possibilities, CCL Label has revealed CANtastic – a new type of aluminium can packaging.
"This new packaging product is all about connection and protection – it guarantees maximum cleanliness from production to the point-of-sale in supermarkets, convenience store or gasoline stations, where cans are often openly displayed in an unprotected environment to catch the attention of the consumer," says Reinhard Streit, vice president and managing director of Food & Beverage at CCL Label.
"With CANtastic, the cans are protected against all kinds of possible contaminations while ideally promoting the brand owner's message. It goes further than other aluminium cans available in the market, allowing brand owners to build maximum trust with the consumers."
The specially engineered sleeve and top construction allow for recycling of the aluminium cans, which are recycled in most countries. However, regarding the PP or PET outer layer, a spokesperson from CCL told Packaging Europe: "The aluminium cans will be detected and sorted in the recycling plant with most of the sleeves still on and then the sleeves will be burnt off in aluminium recycling process because of the high temperatures. The sleeve material will in absolutely no case hinder the aluminium recycling."
A study recently carried out by IPSOS revealed that two thirds (66%) of consumers are concerned with the safety of their food and another packaging survey released by McKinsey revealed that food safety and hygiene now rank in the top six packaging industry trends.
Streit adds: "We see that COVID-19 has transformed the consumer landscape – trust in brands is more important than ever. Health is now connected to heightened issues of food safety and hygiene with two-thirds saying that being healthy is being safe. Improving food safety is cited as the number one priority for manufacturers".
Meanwhile, commenting on the marketing potential of the new solution, Streit concludes: "Once the lockdown restrictions are lifted and life becomes more normal again, we expect promotional activities from brand owners to become an important marketing tool again.
"Our CANtastic decoration offers ideal space for branding and consumer communication. Firstly, there is additional space on the lid for extra activities or design possibilities. Contests, lotteries and loyalty programs can easily be integrated as well as Virtual Reality elements or special QR codes for unique and secure digital identity."