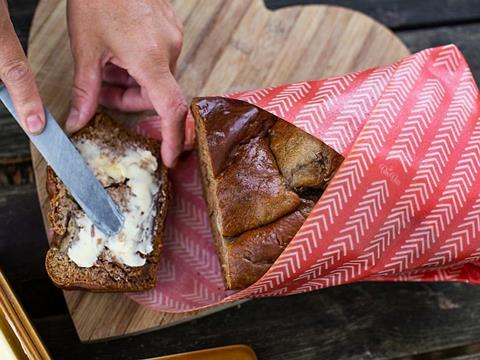 With consumers embracing increasingly eco-conscious lives, Cambridge Consultants have announced their latest partnership, which is set to transform the business of BeeBee Wraps, a UK-based start-up.
BeeBee Wraps has developed a reusable beeswax food wrap that is a sustainable alternative to single-use plastics. Cambridge Consultants has designed a bespoke manufacturing process that enables production to be accelerated by a factor of 30, while remaining consistent with the sustainability principles that guide this fast-growing business.
The brainchild of entrepreneur Kath Austin, who cooked up the idea in her kitchen in 2017, BeeBee Wraps has enjoyed remarkable growth. Starting life as a busy grassroots operation, this technology innovation hit the national press in January 2018 and has since found a loyal community of customers and advocates. The materials used are sustainable and ethically sourced and at the end of their life can simply be composted. But with an uncompromising approach to sustainability and product quality, continued expansion required a breakthrough in production methods.
The project team quickly established that off-the-shelf solutions would not be suitable with a difficult organic matter such as beeswax. Instead they sustainability-led mechanical design and process improvement expertise to build a unique, energy efficient production system that improves the quality and consistency of the BeeBee Wraps product, whilst radically speeding up production.
"The solution has replaced a labour-intensive, hand-made process whereby each wrap was individually cut and the beeswax formula applied before being allowed to dry. The new process provides a 30 times increase in capacity over the current solution, it provides a continuous roll-to-roll system which can produce 100+m of material with one operator. Cambridge Consultants' design and process improvement expertise was applied in order to achieve this radical business transformation. The requirement for industrialisation and automation of the process had to be balanced with the sustainability goals of BeeBee Wraps. The compact solution that was delivered actually reduced overall energy consumption," says Cameron Watson, project team leader at Cambridge Consultants.
The new process enables one person to produce a day's worth of material in just 15 minutes, around 30 times faster than the current method. This ability to scale up ensures BeeBee Wraps is future-proofed and able to fulfil rising customer demand in the foreseeable future.
"This is the sort of project that really energizes our team. It's an opportunity to deliver a solution that really makes a difference to a growing business," said Cameron Watson, project team leader at Cambridge Consultants. "In keeping with the sustainability credentials of our client and their product, we also wanted to ensure that the resulting process improvement would not only be efficient but also improve quality, a vital measure for a product designed for conscious re-use."
"BeeBee Wraps began as a kitchen-table enterprise and has experienced enormous growth in a short span of time. Scaling production to meet growing demand meant working alongside experts in the field to guarantee we hit the ground running," said Kath Austin, founder of BeeBee Wraps. "The chance to work with Cambridge Consultants was like standing on the shoulders of giants. The team delivered meticulously tested results consistent with our environmental mission and we're looking to the future with confidence, with an efficient, sustainable and rapid manufacturing process."