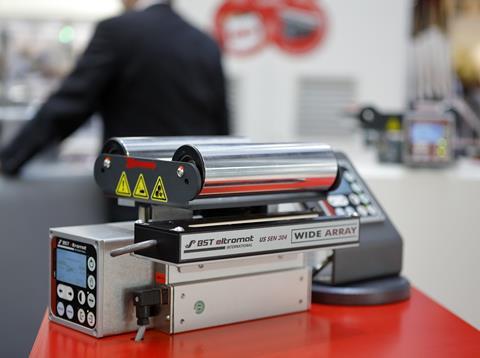 BST eltromat International will be attending FachPack 2019 (September 24 to 26 in Nuremberg, Germany), making its appearance at the PrintCity Allianz joint booth in Hall 7A (booth 7A-138).
In keeping with the exhibition's theme this year, "environmentally friendly packaging," the company will be underlining the outstanding importance of efficient quality assurance for the manufacture of sustainable packaging, in line with its new mission statement – "perfecting your performance." Avoiding production errors during the start-up phase of the printing machine and reducing errors to a minimum during the printing and subsequent processes plays right into the economic and environmental goals of the industry.
Many of BST eltromat's customers traditionally exhibit at FachPack. "Our presence in Nuremberg offers our customers and, in turn, their customers the option to meet our experts and discuss current quality assurance requirements for packaging production using web processing. PrintCity Allianz's "connection of competence" philosophy aligns with our intensive efforts to connect our solutions with other manufacturers' systems from an Industry 4.0 standpoint. Our collaboration with industry partners, including Hybrid Software, KAMPF Schneid- und Wickeltechnik, X-Rite and Colorware, to name a few, enables our customers to optimize their processes. These integrated systems are more automated, resulting in significantly shorter setup times, a higher level of process reliability and more stable production," says BST eltromat Marketing Director Anne-Laureen Lauven, explaining that the company is pleased to be part of the PrintCity Allianz booth.
Focus on web guiding systems
In addition to the openness and connectivity of its solutions, BST eltromat will also focus on the flexibility and ease of setting up and operating its web guiding systems in Nuremberg. "Our extensive web guiding portfolio, including controllers and measurement equipment, inspection systems, register control systems, colour management and automation solutions, means we have all the technical capabilities to perfectly manage our customers' packaging materials throughout their web-processing production processes. This makes us an ideal partner for packaging manufacturers, particularly in the field of web guiding systems," says Ingo Ellerbrock, head of product management at BST eltromat.
Representing its wide range of quality assurance products in web processing for packaging production, BST eltromat will have a CompactGuide web guiding system with a wide array sensor and a CLS PRO 600 digital line and contrast sensor on display at FachPack. The company's web guiding system product range, including the SmartGuide pivoting frame for wide web applications, the FVG POS 100 sensor positioning device, the competitively priced EcoGuide entry-level solution for standard narrow web applications in web edge guidance and the extremely versatile CompactGuide, cover virtually all packaging manufacturing requirements for web guiding systems. The same is true of its comprehensive range of sensors, including ultrasonic sensors, optical sensors, digital sensors and wide array sensors. In addition, the company offers controllers that many customers credit with an unparalleled level of user-friendliness, thanks to their intuitive touch interface. BST eltromat's web guiding systems can be configured along the plug-and-play principle. After the systems are connected, they recognise and configure themselves automatically. It's hard to imagine how system setup could be any easier. "Time and again, our Project Planning department develops practical solutions to suit our customers' individual requirements for our web guiding systems, even when those requirements deviate from what is standard. Whether customers are looking for standard or tailor-made solutions, we supply technology that can handle their requirements in the best possible way," says Fabian Kneip, area sales manager at BST eltromat.
Shorter and shorter setup times, even for inspection
When it comes to inspection systems, the experts from BST eltromat will also be on hand to provide information on request about the latest options and functions available through the company's iPQ-Center. The iPQ-Center consists of the iPQ-Check solutions for 100% print inspection, iPQ-View for digital web monitoring, and iPQ-Spectral for spectral inline colour measurement. The iPQ-Workflow integrates these three modules in one high-end system which BST eltromat customers can use to manage numerous quality assurance functions centrally. For example, the two new options available – COLOR DATAPreparation and SMART DATAPreparation – make it much easier for customers to set up inline spectral colour measurement.
In addition to web guiding and inspection systems, BST eltromat will also be on hand at FachPack 2019 to provide customers and interested visitors with information on how the company's solutions for automation, colour management and register control can help them perfect the performance of their production processes to better achieve their economic and environmental goals.