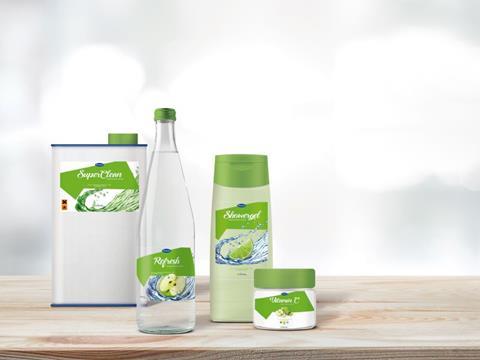 Sihl presents a new film to the range SIHL FACESTOCK. The PICOFILM WS is a white polyolefin film with a special VIP (Variable Information Printing) top coating for aqueous inkjet printing. Thanks to its squeezability and deformability, it is ideal for the labelling of various PE containers and bottles.
Following last years' successful introduction of the product range based on the 60 µm BOPP films for printing with aqueous inkjet inks, the white squeezable film (PICOFILM WS) is the second brand-new product for FACESTOCK assortment.
The polyolefin-mix film, developed especially for aqueous inkjet printing, opens many new possibilities for application with aqueous printers using either pigment or dye inks. It is equipped with an established VIP coating, which Sihl customers have already come to know and treasure. The reverse of the film is not coated. The top material adapts well to the substrate onto which it is applied and resists multiply use.
Four product varieties available
Sihl offers PICOFILM WS in 4 variations:7079
– PICOFILM WS-85 glossy IHG17094
– PICOFILM WS-85 satin IG17095 – PICOFILM WS-75 matt IM17096
– PICOFILM WS-75 matt XM1
The different surface finishes enable the perfect solution for every application. In addition, this film is not only perfect for digital printing but is also easy for all label producers to process, as good as self-adhesive squeezable or MDO (Machine Direction Oriented) standard products.
Thanks to the good balance between suppleness and strength, the squeezable material can be used in many areas, where until now only PE facestock films could be used.Extremely resistant variations for outdoor application
The product variant PICOFILM WS-75 matt XM1 is offered with a special coating. "XM1", in combination with Epson C3500, Kyaro D, Primera Lx2000e and Epson 7500G printers, achieves the BS5609 Section 3, making it predestined for extreme outdoor use. It is both, water- and chemical- resistant as well as being abrasion resistant. The film is ideal for self-adhesive labels for the labelling of oil or chemical drums.
More info: