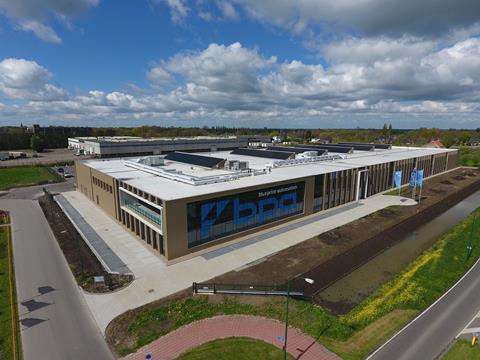 BluePrint Automation (BPA) has recently moved into a new facility in Woerden. Sister company BPA Racupack from Culemborg soon joins them. Next step: merging their case packing and wrap around expertise for the development of modular, compact and flexible packaging machines.
BPA is a market leader in the development and manufacturing of case packing machines that handle flexible bags of any shape and size. BPA Racupack specialises in wrap-around systems. "The machine pre-collates the products, which are then wrapped around with cardboard material," explains sales director Jos van Oekel.
Higher output per square metre
"Our customers will profit from our combined knowhow. By operating from the same facility, we can fully combine our specialties and offer an integrated, compact packaging solution with a higher output per square metre and shorter changeover times," according to van Oekel. "This is exactly what are our customers want today, and even more so tomorrow."
Diversity
BPA offers its solutions to many major multinationals in the food processing industry. "And we supply small and medium-sized businesses as well. What makes us unique is the diversity of the markets we operate in. Instead of focusing on one particular type of bag, we can handle them all! We are going to implement BPA Racupack's know how to pack even a wider range of other products in various case types, such as SRP (Shelf Ready Packaging)," says van Oekel. The family business (founded in 1980, 400 employees today) doubled its turnover in just over five years.
The Woerden location supplies customers worldwide, with the exception of North and South America, which are served from two locations in the US. The new facility in Woerden covers 140,000 square feet and has room for expansion to cover twice that surface.
"We are skipping a traditional opening of the new Woerden facility," says van Oekel. "Instead we are planning special open-house sessions, to be held in the course of the year, so we can personally inform our customers about the recent BPA developments."
More info: