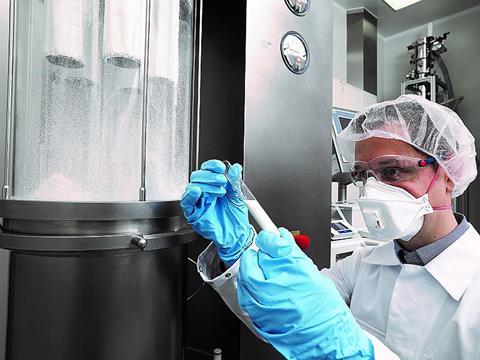 Bosch Packaging Technology showcases its laboratory expertise for oral solid dosage (OSD) forms.
The new laboratory device Xelum R&D for continuous manufacturing is on open display for the first time. Moreover, visitors can see how the Bosch Pharma Service and Industry 4.0 solutions support pharmaceutical manufacturers in increasing transparency and efficiency of their laboratory processes. "With our wide range of laboratory solutions, we offer our customers an ideal starting position for a fast time-to-market of their pharmaceuticals," says Fritz-Martin Scholz, product manager at the Bosch subsidiary Hüttlin.
Reduced development time thanks to continuous production
The Xelum R&D offers pharmaceutical manufacturers an ideal start to continuous OSD production. "The Xelum R&D is the first R&D machine to combine charging, dosing of several ingredients and blending with granulation, drying and discharging in one unit," Fritz-Martin Scholz explains. In contrast to continual mass flow, the Xelum R&D doses excipients and active ingredients as a discrete mass. This way, customers can dose even smallest amounts of APIs of less than one percent. Individual packages, so-called X-keys, continuously run through the process chain and are removed successively from the machine as packages into bins. Moreover, the X-key approach makes the product traceable at all times. It reduces the system's failure susceptibility and process complexity, while increasing the product's accuracy and quality. Time-consuming scale-up is not needed, since the laboratory device uses the same components as the Xelum production platform. The identical process parameters can be directly transferred 1:1, which leads to a reduced development time. Additionally, the customer has the opportunity to move his product to continuous production or to a conventional batch process.
Customer support starts with the formulation
Bosch's laboratory portfolio supports customers in all development and production phases of OSD forms. Every year, roughly 1,000 experiments with substances for various indications are conducted at the company's competence center in Schopfheim, Germany.
"The key to achieving a fast time-to-market while meeting the highest quality standards is extensive experience and knowhow," says Dr Marcus Knoell, Head of Pharma Service Solid at Hüttlin. "We offer customers everything from a single source: from formulation and analytical development, to stability tests and bioequivalence studies and dossier preparation."
A specific focus is on scale-up and technology transfer: every product that is developed at the Bosch laboratory is tailored to the customer's machines, so that they can later manufacture the product in-house.
Seizing the data treasure
At CPhI worldwide, Bosch also showcases its new data mining service which evaluates existing machine data more effectively to identify and eliminate root causes. "Machine deviations are often classified as 'human error' due to misinterpretations or missing information," Dr Marc Michaelis, expert for continuous production and process verification at Hüttlin, explains. "Yet we assume that this is true for no more than ten percent."
Bosch's new data mining tool makes it possible to examine large amounts of data for the smallest effects using statistical methods. "This way we can recognize hidden connections and eliminate failure causes. Large investments are not required. What it takes is technical expertise and extensive process know-how," Dr Michaelis says. "Our experts can support pharmaceutical manufacturers all over the world to make the most of their existing data." Bosch Packaging Technology at CPhI worldwide: October 9-11, 2018, hall 4, booth G 22.