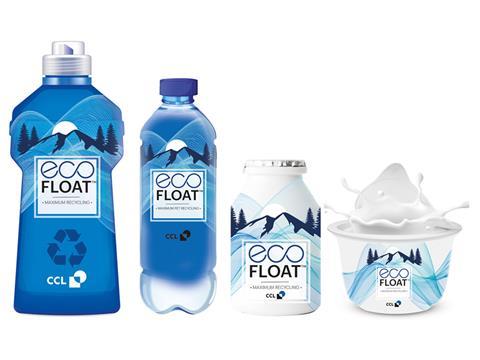 If you think the label is only a small part of a pack, then it might be time to think again. Choosing the right label or sleeve for PET bottles can make a huge difference in recycling, argues Marika Knorr, head of sustainability and communication at CCL Label, in our latest Innovation Spotlight.
Achieving a higher yield in quantity and quality of PET material is one of the challenges in PET recycling. How can you help?
Marika Knorr: Looking into how labels and sleeves can support the recycling of PET bottles and thus a circular economy has been a focus area for CCL Label for a while. We have two specially engineered products that perform ideally in PET recycling: Our Pressure Sensitive Label EcoStream and our new polyolefin Sleeve material EcoFloat.
In PET recycling, the sink/float step with additional elutriation and wind sifting afterwards, is crucial for a successful PET recycling. This is where our labels and sleeves come into play: They detach easily from the bottle in the grinding process and immediately float to the top of the water basin while the PET flakes with higher density sink to the bottom. This clean separation enables the yield of very pure high-quality PET flakes that can then be recycled into new bottles, closing the loop.
Is using a low-density material the key to successful PET recycling?
MK: It is one of the keys. It is also important that the label detaches easily. EcoStream for example has a high shrink factor so that the label kind of "rolls itself up" in normal washing temperatures at the recycling facilities – thus detaching easily from the bottle, which is ideal for rigid PET bottles that can be re-used again and again.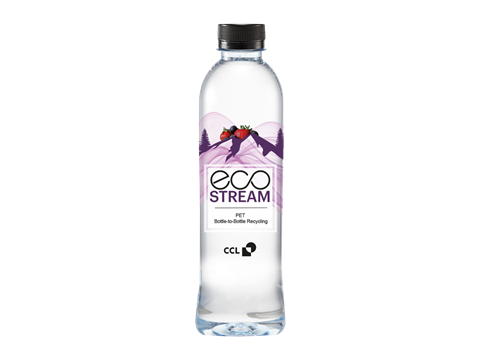 We believe that 80% of recycling is sorting – and our label and sleeve materials were designed to support successful sorting. More and more brands will want to include rPET into their packaging – and will have to because of EU legislation. So more rPET recyclate is needed, and this can only be achieved through effective sorting and recycling. For example, we did a great project with NÖM – the Austrian dairy company. They are using a 100% rPET bottle to package milk – and chose an EcoFloat shrink sleeve to ensure that the bottle can be recycled again and again.
How about the contamination of the washing water at the recycler?
MK: No, our label and sleeve materials have a special construction that allows the inks and adhesives to remain on the label without bleeding into the water. This also contributes to very pure PET flake yield and supports high-quality recycling. The label material and the caps that are floating on the water are then extracted and in most cases in Europe sold to a mixed polyolefin recycler who then gives the material a second life in thick-wall applications.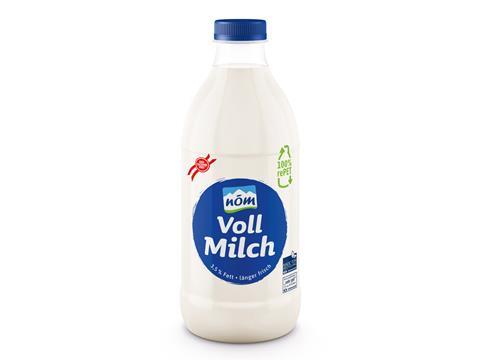 We have received the endorsement of the European PET Bottle Platform (EPBP) for EcoFloat and EcoStream. EPBP has a huge focus on the non-contamination of the washing basins at the recyclers. We also just received the recognition of the Association of Plastic Recyclers (APR) in the US.
More recycling infrastructure or returnable bottle schemes are being introduced in Europe, are you involved?
MK: Sure, we are monitoring these developments and are involved in many exciting projects ourselves. For example, we are part of the HolyGrail 2.0. and NEXTLOOPP initiatives that are developing and promoting markers printed on labels or sleeves to enable easier sorting of the household waste. As the largest producers of labels worldwide, this is very important to us.
We also support returnable bottle schemes as we see this as a great system to re-use packaging, use less virgin material and lower the overall CO2 footprint. WashOff Technology is ideal to support the re-use of rigid PET bottles, as they detach and wash off easily in the normal washing process at the bottler – no extra energy or chemicals needed to remove the label and send the bottle on to its next life. In our opinion ideal bottle-to-bottle recycling!
Are there any other exciting projects you are working on?
MK: When it comes to creating sustainable labels one aspect is the end-of-life and engineering the labels so that they perform ideally in recycling by essentially not hindering the recycling process. But there are also ways to make the label itself more sustainable. For example, by including post-consumer recycled content in the label or sleeve which is possible anywhere from 30 to almost 100% for some materials.
Another example is bio-based label materials – for example, CCL Innovia just released the Encore PP film that is based on tall oil. That is a renewable by-product of the paper industry and the overall product has a significantly lower carbon footprint than labels based on crude oil.
The world of label engineering to support "Design for Recycling" of plastic and other packaging and FMCG goods is a fascinating topic with a lot of potential. We are happy to talk to brands about it!
More information on PSL for PET bottles: EcoStream
More information on sleeves for PET bottles: EcoFloat
Contact:
Marika Knorr
Head of Sustainability & Communication CCL Label
mknorr@cclind.com // 0049 173 1536577
This content was sponsored by CCL Label.