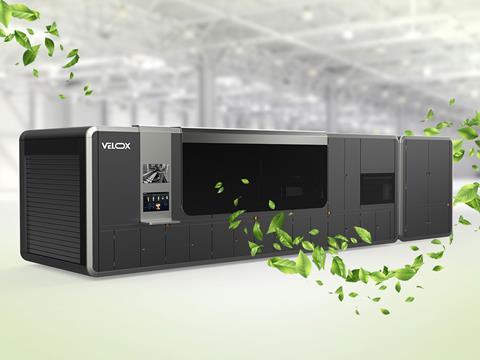 In this installment of our Innovation Spotlight, Velox presents its cutting-edge, eco-friendly digital decoration solution.
In the packaging world, discussions about digital printing typically focus on perks like image quality, easy customization, and quick reaction to market needs. But there is an additional plus to digital printing – it is a more sustainable technology compared to traditional solutions as digital eliminates analog plates, shortens setup time, and reduces calibration and production waste.
Going even further, direct-to-shape digital decoration technology that is applicable for mass production can dramatically boost the environmental impact already seen in small-quantity production.
Velox's direct-to-shape digital decoration system architecture and proprietary inks are designed for the mass production of cylindrical containers. It allows for many steps and equipment along the process to be eliminated, thus dramatically reducing materials and carbon footprint – some of the top criteria brand owners have when selecting a package converter.
Sustainability is achieved across every aspect of the workflow: in the decoration process, the production line, manufacturing site, and end-to-end product lifecycle.
Decoration process
Velox's digital technology eliminates almost all print setup materials – plates, meshes, blankets and chemicals. By removing the calibration process and associated substrate waste, savings can reach more than 2 tons of plastics each year. Moreover, yearly average waste reduction is more than 2%, which sums up to savings of over 10 tons*.
The Velox IDS 250, which supports 11 colours on the system simultaneously, provides highly accurate colour matching, covering over 85% of the Pantone Plus colour space. This means the need for spot inks is gone.
Additionally, because each Velox system combines the benefits of offset, silk, and flexo in one solution, it can replace multiple decoration systems, allowing savings on space, energy, overhead, and more.
Full production line
Velox IDS 250 systems decorate up to 250 cpm regardless of container size. Printing at production line speed, coupled with significantly reduced downtime (no setup), this system can increase the capacity and efficiency of existing lines by more than 60% annually*.
Velox's unique decoration technology also decreases the number of systems and modules needed throughout the decoration process: varnishing, coating, ovens, drying systems and even embellishment units since Velox inks include digital gloss, matte and tactile embossing as part of the system.
Utilizing Velox's mass production DTS digital decoration technology reduces consumption of energy, footprint, storage of chemicals and setup materials, chemical handling units and other resources.
Entire manufacturing site
With digital decoration, the printing process is greatly simplified. As there is no need for system setup, changeover time between jobs is significantly shorter. Add to that printing speed that meets the production line speed, and on-demand production is finally possible.
When using Velox mass production digital decorators, maintaining stock to meet short delivery times is no longer needed. Inventories can be reduced by 5-10% and overproduction eliminated, with huge savings on unused inventory that goes to waste, translating to several million tubes and tens of thousands of kilograms of plastics saved, as well as savings on storage area and associated resources.
End-to-end product lifecycle
Digital decoration reduces transportation and logistical stock requirements while improving planning and time-to-market – significantly simplifying the supply chain.
Printing directly on the container rather than on labels or sleeves, helps to eliminate additional processes as well as save on label substrates, glues, and logistics. Even if only 15% of labels are converted to direct digital decoration, the savings of related materials will total over 18 tons of plastics saved yearly*. It also eliminates the need for secondary labels by allowing micro-segmentation by language, country, or any other parameter– saving even more materials, contaminants and inventories, and enhancing environmental footprint.
The eco-friendly choice, from start to finish
The sustainability benefits of mass production direct-to-shape digital decoration are seen across every aspect of production. Add to that the ability to print on post-consumer recycled (PCR) and other renewable materials, and it's clear that the sustainability impact of direct-to-shape digital decoration is dramatically greater when used in mass production. The result: a robust, eco-friendly decoration solution for the packaging industry.
*Calculations are based on an extruded tube manufacturer with an annual capacity of 25-30 million.
This content was sponsored by Velox.