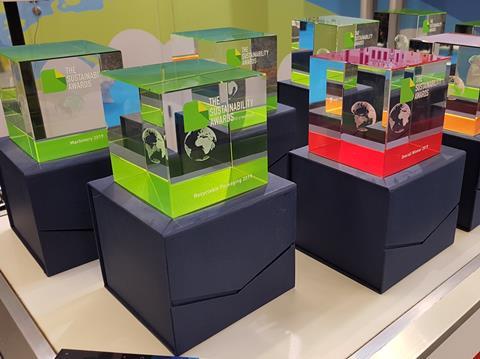 BOBST, one of the world's leading suppliers of equipment and services to packaging and label manufacturers in the folding carton, corrugated board and flexible materials industries, is celebrating after its pioneering duo of innovations, Ink-on-Demand (IoDTM) and DigiColorTM took home the gold at the Sustainability Awards in the machinery category.
The accolade was presented to BOBST at the ceremony during the PackBox Forum at Fachpack 2019 in Nuremberg. The award celebrates innovations that bring heightened eco-friendly credentials to the packaging converter supply chain and drive sustainable value. Among 25 award finalists, our independent judging panel selected the BOBST technologies, noting the impressive synergy between sustainable thinking, heightened efficiency and increased throughput quality.
Matteo Cardinotti, Head of Narrow & mid-web multi-process & converting Product Line at BOBST and Managing Director of Bobst Firenze, was delighted to receive the award. "Our IoD and DigiColor innovations represent the pinnacle of packaging supply chain innovation, so to have them recognised in the Sustainability Awards is testament to the forward-thinking way we approach product development."
The revolutionary IoDTM system eliminates ink trays and chambered doctor blades. It only requires 30g of ink in the print unit to operate. Full wash-out and ink change are performed in minutes with only a few grams of ink and washing liquid wasted, reducing costs and environmental burdens.
The DigiColorTM system complements IoDTM, performing 'on-the-fly' job changes of color Delta E. Each of the seven Extended Color Gamut inks is split into a darker and a lighter ink, which are mixed in-line to match the targeted Delta E. Closed-loop color control of DigiColorTM achieves color-matching and consistency at any speed, on any substrate, with any operator worldwide, which dramatically cut down wasted resources by eliminating the need for costly print re-runs. With DigiColorTM, converters and brand-owners can now rely on a new digital technology to protect their brand identities, while converters benefit from major time and consumable cost savings and quality improvement benefits.
"We understand the combined pressures of modern packaging supply chains in today's environmental and legislative space," continued Matteo Cardinotti.
"Converters today want to be assured they're investing in solutions that not only deliver consistently high quality, but also make best use of resources. Continually driving innovations to meet this need is important to us and so to receive this award is a great honour."